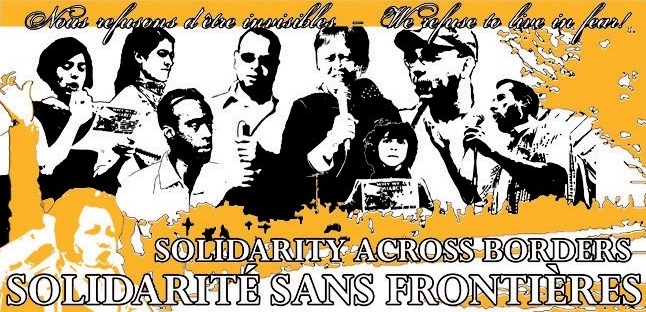 (If you need to get in touch beforehand, please contact us by e-mail at solidaritesansfrontieres@gmail.com.)
Thursday, 27 February at 6:30pm
7009 Hutchison (métro Parc)
* if you are facing deportation (failed refugee claim, criminal record, non-renewal of visa, etc)
* if you are having difficulties accessing services because of immigration status
* if you want to connect with others struggling with precarious immigration status …
Come out to this free mutual aid night to discuss options, share strategies, gather information, learn about resources, and break the isolation.
We will summarize legal proceedings and basic options, share resources, answer individual questions, discuss possible political strategies and collective action. We seek to provide a safe space based on solidarity to discuss difficult questions and choices that many migrants currently face.
Free food; free and fun childcare on site; bus/metro tickets available; translation for English-French-Spanish.
Info:
solidaritesansfrontieres@gmail.com
tel  514-809-0773
www.solidarityacrossborders.org