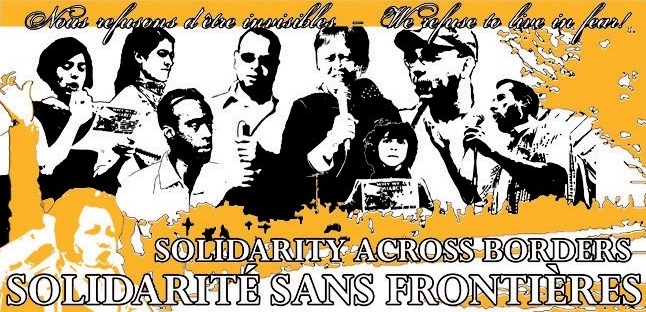 We have decided to cancel the Mutual Aid Night this month (March 2020). We are very sorry but do not want to expose anyone to contagion.
* If you have questions, concerns, or just want to talk, please: call and leave a message at 514 809 0773, email solidaritesansfrontieres@gmail.com or facebook message www.facebook.com/CiteSansFrontieres/. We will try to get back to you as soon as possible.
* We know that many of you are already or may soon face financial difficulties because of the pandemic. Please ask if you need help. We launched a fundraiser last week for this purpose.
* We will try to keep updated information about your access to testing, healthcare, childcare, financial support, etc., here: https://www.solidarityacrossborders.org/en/covid-19-solidarity-across-borders-community-advisory
=====
* if you are facing deportation (failed refugee claim, criminal record, non-renewal of visa, etc)
* if you are having difficulties accessing services because of immigration status
* if you want to connect with others struggling with precarious immigration status …
Come out to this free mutual aid night to discuss options, share strategies, gather information, learn about resources, and break the isolation.
We will summarize legal proceedings and basic options, share resources, answer individual questions, discuss possible political strategies and collective action. We seek to provide a safe space based on solidarity to discuss difficult questions and choices that many migrants currently face.
Free food; free and fun childcare on site; bus/metro tickets available; translation for English-French-Spanish.
Info:
solidaritesansfrontieres@gmail.com
tel  514-809-0773
www.solidarityacrossborders.org