http://rabble.ca/news/2014/04/refuge-on-refugee-rights-day-awan-family-story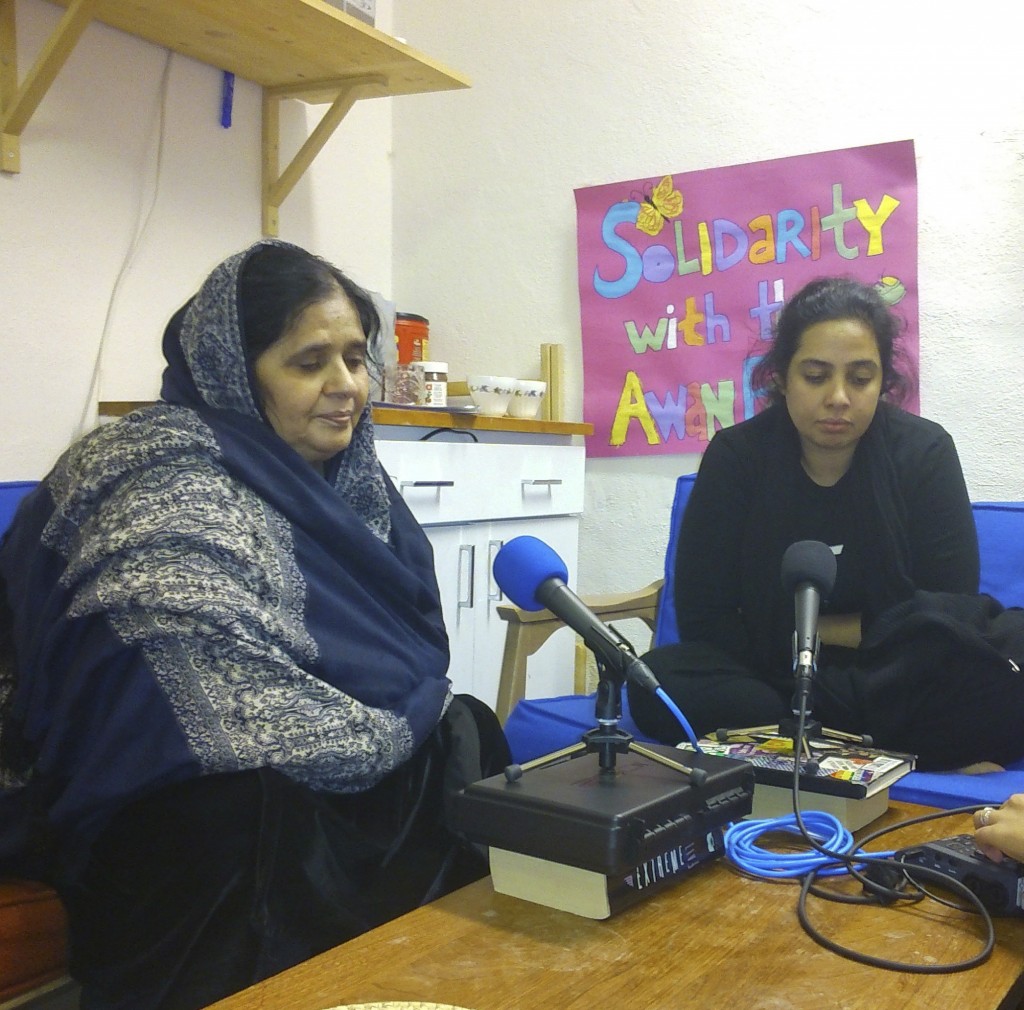 Since August 2013, Khurshid Begum Awan has been living in sanctuary in a Montreal church. She had courageously opted to defy a deportation order which would have disrupted her access to care, divided her family and put her safety at risk.
Widely observed as Refugee Rights Day, April 4 marks the anniversary of the Singh Decision. On a day where we remember migrant and refugee struggles for freedom, dignity and security and recommit to fighting ongoing injustice, we highlight the struggle of the Awan family.
The Awan family's story is shaped by the systemic exclusion of migrants and by the by the violence of the Canadian immigration system. It traces its beginning to the arrival of Tahira Malik, who came to Montreal at the age of 16. After surviving conjugal violence from her ex-husband in Pakistan, Tahira made the difficult decision to leave behind her family and her one year-old son Ali Own. At the time, she hoped that she would find safety in Canada and that her son would be able to join her.
Accepted as a refugee in Canada in 2000, Tahira survived and supported herself alone for over ten years in Montreal. In Pakistan, her parents Khurshid Begum Awan and Mohamad Khalil Awan experienced ongoing anti-Shia violence and criminal extortion at the hands of Tahira's ex-husband, to which young Ali was a witness. In 2011, the family traveled to Montreal so that they could be reunited and live in safety. Although Ali was able to secure citizenship, her parents' refugee claims were rejected and their request to appeal the decision was denied.
In April 2013, Mohamad Khalil Awan was detained at the Laval Immigration Holding Centre. Deported 24 hours later with just the clothes on his back, he was unable to say goodbye to his family. Since his return, he has survived an armed attack and now lives in hiding in Pakistan.
Already suffering from a chronic heart condition and living under immense stress, Khurshid Begum Awan's health continued to deteriorate. When the CBSA began to initiate deportation proceedings, she suffered a heart attack in Immigration Canada offices on July 4. Three weeks later, Canada Border Service Agents arrived at the hospital where she was being treated in an attempt to detain and deport her. Public outcry and political mobilization ensued, and they eventually left after hospital staff insisted that Canada abide by its own regulatory guidelines that stated that she should not fly for at least six weeks.
After being denied appeals at the federal level, and after having medical evidence explaining the severity of her heart condition ignored, she was once again ordered deported in August 2013. It was at this time that she made the courageous decision to stay in Montreal to remain with her daughter and grandson. She accepted the protection of an Anglican church, and has been forced to remain within the church since then.
The Awan family's struggle unfolds in a context of escalating attacks on migrants and refugees. One year after the implementation of Bill C-31, the number of refugee claims filed has plummeted by 50 per cent, while the acceptance reached a historic low of 33 per cent by the first half of 2013. During this time, approximately 14,000 migrants were deported and 9,000 were detained, among them 290 children.
While the number of refugees admitted into the country has precipitously declined, funding border enforcement has steadily increased. It is estimated that $54 million was spent on immigration detention in 2013, while the Canadian Border Services Agency was accorded $15 million to revoke status from 875 refugees. As such, many more are likely to join the ranks of the 500,000 migrants living without status in Canada.
Such measures have constricted migrants' choices, restricted their access to recourse and placed many in precarious situations. In the face of increasingly repressive immigration laws, many migrants have been forced to live underground and to take more drastic measures.
Since September 2013, nearly 200 detainees at the Central East Correctional Centre in Ontario have been waging a historic migrant strike to demand an end to indefinite detention. In some instances, migrants have felt no choice but to resort to death, rather than face detention or deportation. The recent deaths of Lucia Vega Jimenez and of the Walji family speak to this reality, and to the devastating consequences that living in constant poverty, isolation, stress and fear portend.
Over the past decades, a growing number of migrants and families have also opted to forego their freedom of movement and seek sanctuary in churches across the country. Tracing its origins to the medieval practice of seeking refuge in a church, sanctuary constitutes a form of community resistance against deportation. Although it means living behind church walls, taking sanctuary remains a highly public act of defiance — one that challenges unjust immigration decisions and renders them unenforceable.
Montreal itself has been the site of many sanctuary struggles over the years. For instance, the Vega family lived in sanctuary for nearly two years, while the Ayoub family successfully obtained status in 2005 after more than a year in a Notre-Dame-de-Grace church. More recently, Abdelkader Belaouni was granted permanent residency in 2009 after fighting deportation for more than four years.
For the Awan family, sanctuary has meant spending the past seven months confined in a church in Montreal. Remaining by Khurshid's side, Tahira and Ali have chosen to live with her in the church. As such, they have all been sharing a small room in the church basement, without access to a proper kitchen and without any real privacy. Unable to leave the church for fear of deportation, Khurshid has been forced to indefinitely delay medical appointments and forego important follow-up. This has exacted a tremendous toll on the entire family and left their lives on hold.
Despite the weight of constant stress and uncertainty, the family routinely shows us how humour, music and laughter are a powerful means of survival and resistance. It is in this spirit of resistance that we celebrate the courage and resilience of Khurshid Begum, Tahira Malik and Ali Own, as we honour all those who are fighting racist and exclusionary immigration laws.
More information on the Awan family's struggle for justice can be found at, www.soutienfamilleawan.org
Photo courtesy of The Awan Family Support Committee