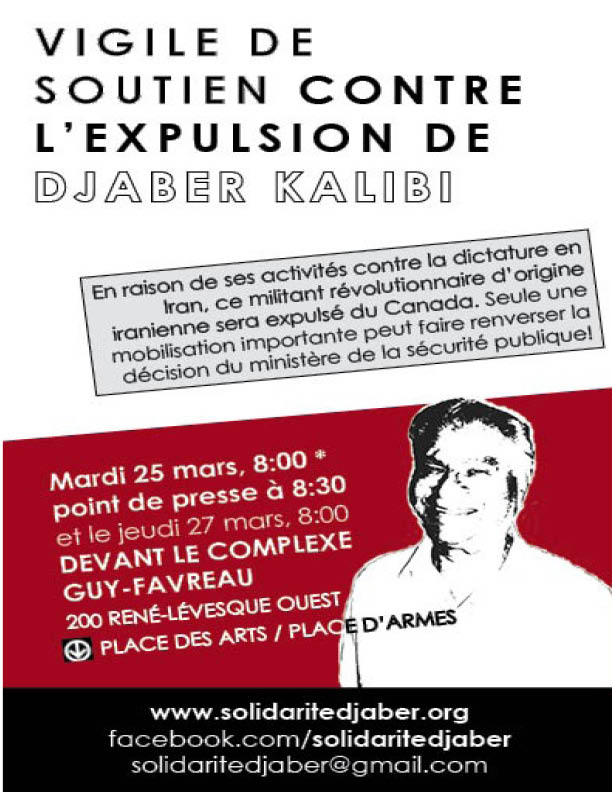 Solidarity Vigil and Press Point
Tuesday, March 25 at 8am (press point at 8:30am)
In front of the Complexe Guy-Favreau (200 René-Lévesque East)
Another hearing is scheduled for March 27 as well.
We encourage you to attend in large numbers to show your support for Djaber Kalibi and his family during the immigration hearings.
BACKGROUND
After eight years in Montreal, Djaber Kalibi is facing inadmissibility from Canada and removal to France, due to his active opposition to the regime of the Ayatollahs in Iran.
Djaber, 77, is an activist known worldwide for his tireless dedication in the struggle against successive dictatorial regimes in Iran.  After counter-revolutionary maneuvering, an Islamic republic was established causing unprecedented repression of Iranian progressives. The Canadian House of Commons has even recently condemned the massacre of thousands of Iranian political prisoners in 1988, calling it a crime against humanity, one of the most serious charges possible in international law.
In 1983, Djaber was forced to take refuge in France, where he continued to engage in political activities against the new Islamic regime in Iran. In 1986, he was arrested by the French political police on the pretext of wanting to organize the overthrow of the Islamic government by force. He was sentenced to four years in prison. On release, he faced expulsion by order of the French Minister of Interior at the time; that order was declared unconstitutional by the Court of Cassation (the court of final appeal for civil and criminal matters in France), which argued that the presence of Djaber on French territory posed no danger to national security. A few years later, after political campaigns to end the obstinacy of the French Ministry of Immigration, the French state was forced to recognize that Djaber had never been a threat to the interests of France. He was eventually able to obtain French citizenship and a passport.
In 2005, Djaber and his family chose to move to Montreal. The family integrated well in their new surroundings, where they work and their children go to school.
Unfortunately, after seven years of trying to obtain permanent residence in Canada, Djaber received an exclusion order about a month ago. On the basis of his arrest in 1986, he is accused of being the instigator or the author of subverting a government by force and engaging in terrorism. The charge is absurd. Is it even possible to overthrow an authoritarian regime like that of the Ayatollahs other than by force? The bad faith of the Canadian government – which describes in the same breath both the Iranian regime and its opponents as terrorists – is alarming.
If France granted Djaber citizenship, recognizing that he is in no way a threat to their country, under what justification can Canada reach a different conclusion?
By asserting that the presence of Djaber in Canada is detrimental to the national interest, the Canadian government is now challenging the right to revolt against a repressive government such as the Iranian Islamic regime. In the context of the Minister of Foreign Affairs of Canada recently welcoming the election of Iranian President Rohani, one wonders if the attempted removal of Djaber is not part of a rapprochement strategy with the Islamic government. There is no doubt that the interests of Canada and Iran, which on the surface seem so far apart, perfectly converge when it comes to a well-known progressive activist.
Djaber's real crime has been to oppose with dedication the dictatorships of the Shah and the Islamists, and to continue political organizing despite his immigration status. Now he is being punished with deportation to France at the age of 77. His wife will also be punished as she will be separated from her children in order to support her elderly husband, and will struggle to find a job at mid-life in a France that is in the middle of an economic crisis.
In order to defend the right to political organizing, as a migrant, around the future of one's country of origin, we must do everything we can to ensure that the Minister of Immigration and the Minister of Public Safety reconsider their decision and agree to welcome Djaber Kalibi and his family here as permanent residents.
We demand Justice for Djaber on behalf of the right to resist any dictatorship!