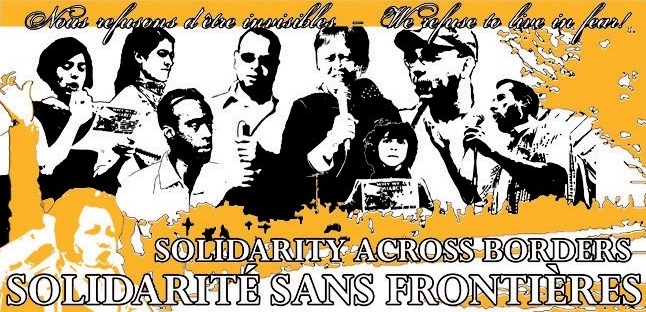 Resistance to State Repression in Immigration, Citizenship, & Extradition
with Deepan Budlakoti, Ivonne Hernandez & Solidarity Across Borders.
Saturday, March 14, 10:30am-12pm
at the McGill Faculty of Law, 3644 Peel Street
Part of "In the Streets, In the Courts: Un Forum de Droit Radical", organized by RadLaw
This workshop space will explore the frontline grassroots resistance efforts to deportations and extradition. We'll look at support work and mutual aid efforts in navigating the immigration bureaucracies, as well as opposing the policies of Citizenship and Immigration Canada (CIC) and the Canada Border Services Agency (CBSA).
We will hear directly from the lived experiences of Deepan Budlakoti and Ivonne Hernandez.
Deepan Budlakoti is an Ottawa-born man who the Canadian government is trying to deport to India, a country where he has no family, has never lived and is not a citizen. Deepan is making a Charter challenge, asking the courts to order the government to recognize his citizenship, as well as being central to a grassroots popular education campaign to regain his rights and citizenship.
Ivonne Hernandez is a non-status survivor of conjugal violence who lost custody of her son (due to her undocumented status) and was arrested and detained in pre-planned ambush by border agents in Montreal. Fortunately, as a result of a protracted grassroots organizing campaign, Ivonne regained custody of her son, and is on the path to regaining her citizeship.
Beyond their specific cases, Deepan and Ivonne will also speak about the broader organizing principles and lessons that emerge from their cases.
A member of Solidarity Across Borders, a migrant justice network based in Montreal since 2004, will provide an overview of anti-deportations and anti-detentions organizing in the past decade, and the current campaigns for Status For All and a Solidarity City. The lessons in confronting the policies of successive federal governments will be stressed.
Background Info:
www.justicefordeepan.org
www.justicepourivonne.org
www.solidarityacrossborders.org