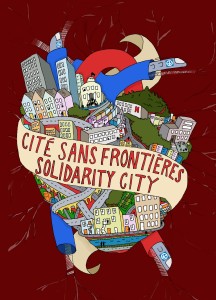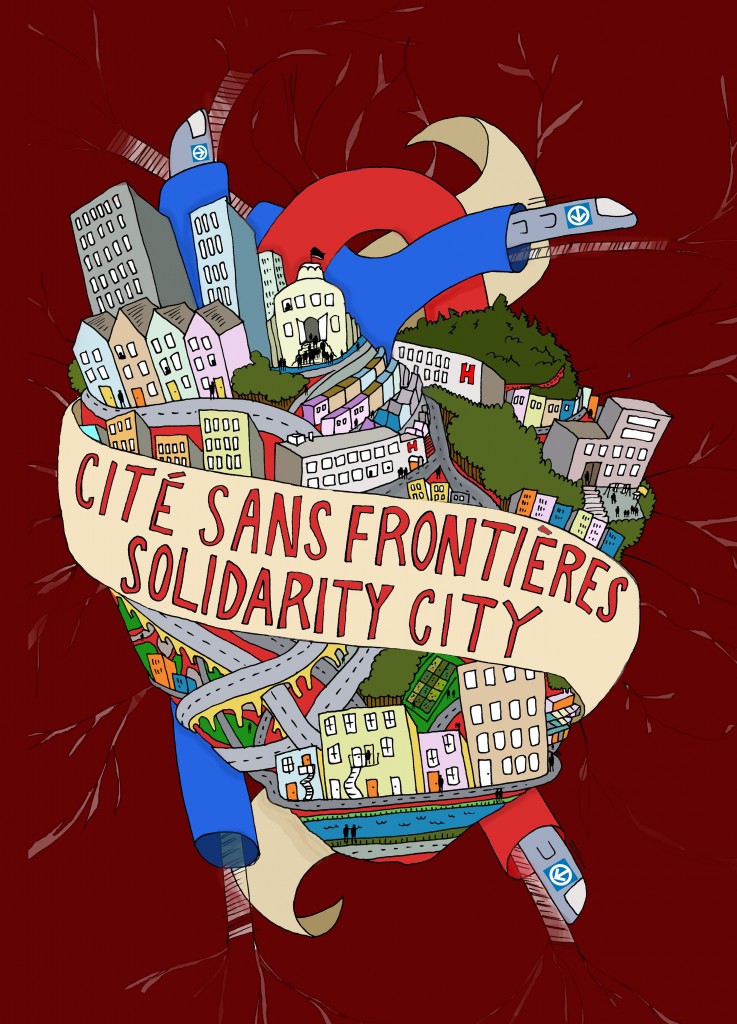 STATUS FOR ALL!
March for justice and dignity for all migrants and refugees
SATURDAY, MAY 28, 2011
Gathering at NOON
Jean Talon & Boyer, just east of métro Jean-Talon
MONTREAL
No borders, no nations, stop the deportations!
We march together to demand an end to deportations and detentions and also to denounce the double punishment of migrants with criminal records. We demand Status for All, and organize for a "Solidarity City" for all residents of Montreal.
A child-friendly march. Bring your kids! Get in touch about any accessibility needs.
———-
Organized by Solidarity Across Borders, No One Is Illegal-Montréal, Dignidad Migrante, the Immigrant Workers Center & JOC-Montreal. (Dignidad Migrante and Solidarity Across Borders are working groups of QPIRG Concordia.)
solidaritesansfrontieres@gmail.com
514-848-7583
www.solidarityacrossborders.org
———-
This year's May activities are organized in support of four main demands:
STATUS FOR ALL! We demand a full, comprehensive and ongoing regularization program for all people living in Montreal, Quebec and Canada who do not have full status (ie. permanent residence or citizenship). Simply put, Status for All means that all residents of Canada will get the documentation they need so they can access all services and have access to all the same rights as anyone else. Status for All means we struggle and organize so that all residents, regardless of their origins, can have full dignity as human beings.
NO TO DEPORTATIONS! We stand in solidarity with those who struggle to resist their deportations and forced removals. We believe that everyone has the right to migrate, the right to resist forced displacement, and the right return to their homelands if they so choose.
NO TO DETENTIONS! On any given day in Canada, there are upwards of 500 people in immigration detention centres, including up to 100 individuals and families at the Centre de prevention de l'immigration de Laval. We demand the immediate release of all detainees in immigration detention facilities, and organize for the closing of all detention centres.
NO TO DOUBLE PUNISHMENT! "Double punishment" is the term used to describe the unjust policy used against non-citizens who face deportation after being punished for a criminal conviction. Double punishment is often the direct result of racial profiling. The reality of double punishment in our communities often provokes feelings of shame and isolation, due to the stigma of a criminal conviction. We aim to break this isolation by taking a clear stance against double punishment, and building together to expose this injustice, and to support the individuals fighting to remain with their families, friends and community here in Montreal.
———-
We are also demonstrating to build a SOLIDARITY CITY in Montreal:
For thousands of undocumented migrants across the country cities such as Montreal, Toronto and Vancouver are sweatshops. Immigrants and refugees work the most precarious and dangerous jobs. The Canadian economy cannot survive without this work force that is exploited due to the lack of permanent status and the threat of forced removal. Instead of the city as a sweatshop, we organize to build a Solidarity City.
A Solidarity City is the creation of a community that rejects a system that engenders poverty and precarity, not solely for immigrants and refugees, but also for other Montrealers confronting these same realities. We are opposing fear, isolation and and division and strike back with solidarity, mutual aid, and direct action.
The "Solidarity City" campaign is an attempt to generalize and broaden some key organizing principles that have been applied in migrant justice work in Montreal: attempting to network and unify around common, direct and straightforward demands; practicing tangible mutual aid and solidarity (support work) in contrast to charity or service approaches; holding decision-makers directly accountable for their actions and policies; and using direct action to achieve justice.
All individuals and groups in Montreal can be part of contributing to and building a Solidarity City, by your efforts to provide support to undocumented residents, linked to our larger campaigns for social justice. Get in touch to learn more.