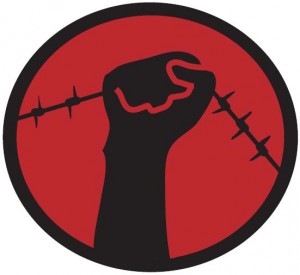 APRIL SHOWERS BRING DOWN BORDERS!… or at least, we can hope. 
A Status for All Fundraiser
Friday, April 26
Come early! Doors at 6:30pm. Music from 7pm.
Location: 185 Van Horne, near Parc
(unfortunately, not accessible to wheelchairs)

COME EARLY! MUSIC AT SEVEN!
FEATURING MUSIC PERFORMANCES BY:
* Shaina, or Star Renata, engages in middle-to-low-brow political song-writing with her piano. She will be singing with an almost-tuned piano about buttercups, butter boots, white men, blinkless britannicas, and southern plums.
* dirtyboots
www.soundcloud.com/dirtybootsmontreal
lush melodic vocals with dirty analog synth and dark minimal beats, the solo music project of robyn maynard.
* interferencia
latinoamerican post-punk
* DEBT 
a loud rock band: http://debtmusic.bandcamp.com/
AND DJs:
* Δ NIHAL THOMAS Δ (NYC)
While rising the ranks of the local scene, Nihal has been serenading dancefloors with his eclectic taste. Whether it be classic house, italo-disco, or straight up techno you can be certain he will see to dropping the appropriate record at the perfect time. Be on the lookout for his original productions later this year.
* mistah
of bass in public places
THIS WILL BE AN EARLY SHOW! Over by 1 am!
Doors 6:30!  MUSIC STARTING AT 7 PM SHARP! 
Start your night here, party elsewhere after! 
$5-8$ 
PWYC, no one turned away or guilted! 
BYOB!
Unfortunately, the venue is not wheelchair accessible. 
This event is organized by No One Is Illegal Montreal to raise money for the annual Status for All March on May 18th.
INFO: www.solidarityacrossborders.org/en/may-18-status-for-all-march