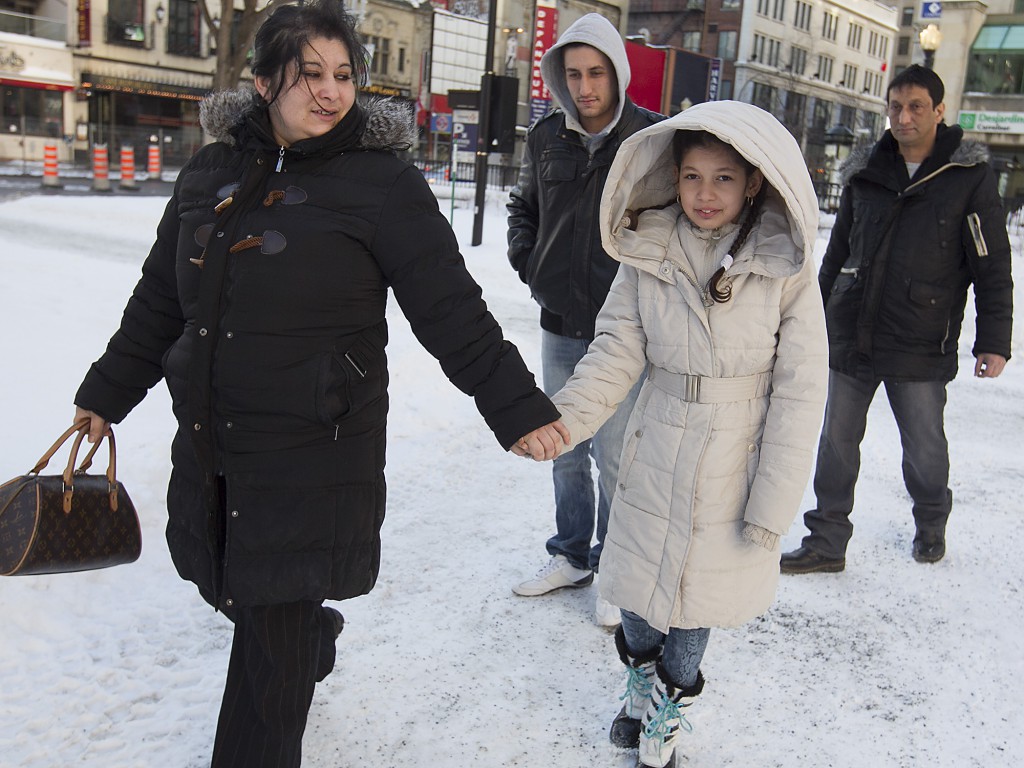 Call for support: Roma family facing deportation to Hungary in five days
Anasztazia Szilagyi, husband Dezso Nemeth, and their two children Mark (21) and Mercedesz (10) are scheduled to be deported to Hungary on Wednesday, January 28th.
–> Court Support for the Nemeth Family
Tuesday, 27 January 2015, 2:00pm
Federal Court of Canada, 30 McGill St., Montreal (Square Victoria Metro)

–> Write or call Federal Minister of Immigration Chris Alexander and Federal Minister of Public Safety Steve Blaney and ask them to stop the Nemeth family's deportation and give them status in Canada. See details below.
The Nemeth family came to Canada in 2011, fleeing anti-Roma racism and violence in Hungary.
Their refugee claim was refused by Anna Brychcy, a commissioner with no background in law or immigration appointed by Jason Kenney in 2009. According to the Toronto Star, Brychcy refused over 93% percent of the cases she heard in 2010.
In refusing the Nemeth family, Brychcy claimed that the Hungarian state protected the rights of Roma. This is clearly false: numerous human rights groups and UN bodies have reported on the violence and systemic discrimination that Roma face in Hungary, and the active role some state officials have played in inciting this racism.
The fact that Hungary does not protect its Roma citizens was recognized by another refugee board commissioner, who heard and accepted the Nemeth family's adult son and daughter a year after their parents were rejected.
Because Minister Kenney placed Hungary on his "safe country list", Anasztazia, Dezso, Mark and Mercedesz were denied an appeal of Brychcy`s decision and are not eligible for a pre-removal risk assessment until 2016, long after their scheduled deportation.
The Nemeth family thus has no further recourse under immigration law. Failing an intervention by Minister Alexander or Minister Blaney, their only hope is that the court will stop the government from deporting them. On Tuesday, their lawyer will ask the Federal Court to stop the deportation until they have a pre-removal risk assessment based on new evidence not available at the time of the refugee hearing.
Join us in supporting the Nemeth family and opposing anti-Roma racism and deportations by coming to court and/or contacting the federal ministers.
*****
BACKGROUND: /anti-roma-discrimination-in-hungary
STATEMENT BY ANASTASZIA: /statement-by-anasztazia
TIMELINE: /espanol-summary-of-the-nemeth-familys-struggle
MEDIA COVERAGE: /media-nemeth
*****

DETAILS FOR CALLING OR WRITING MINISTERS
In your letters or telephone calls, ask the Ministers to stop the deportation and to give the family status in Canada.
Point out that:
– the family was refused by a refugee board commissioner who has a track record of refusing refugees (for example, in 2010 she refused over 93% of the claims she heard) and that she refused them on the basis that the Hungarian state protects the rights of its Roma citizens;
– that another part of the family was accepted one year later by a different commissioner who found, on the contrary, that Hungary is not capable of protecting the rights of its Roma citizens;
– that the Nemeth family has been denied a pre-removal risk assessment because the government has classified Hungary as a "safe country";
– that the Nemeth family has faced discrimination and violence because of their Roma origin and fears they will face it again if they are deported; and
– that deportation will split the family up, separating Anastaszia and Dezso from their two older children and grand-children.
Alexander: Email: Minister@cic.gc.ca and Chris.Alexander@parl.gc.ca or Fax: 613-996-1289 or Fax: 905-426-9564
Tel 613-995-8042 ou 905-426-6808
Blaney: Email: steven.blaney@parl.gc.ca and blanes1b@parl.gc.ca or Fax: 418-830-0504
Tel 418-830-0500 ou 613-992-7434