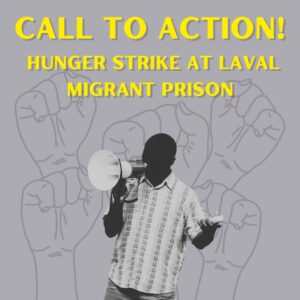 Migrants detained at the Laval migrant prison are denouncing the arbitrary and unjust reasons for their incarceration by the Canada Border Services Agency (CBSA). A petition addressed to the CBSA and Action Réfugiés Montréal has been signed by 30 detainees demanding their release. They began a hunger strike on the morning of Thursday, September 07, 2023, and will continue until they are met and heard by a CBSA representative.
What can you do?
1) Call the Laval migrant prison en masse to say that we support the detainees on hunger strike and demand that they be released! The only real alternative to detention is status for all!
Tel: 450-661-4267
2) Contact public safety minister, Dominic Leblanc:
Tel : 613-992-1020
Here is a script you can use:
"I am writing/calling in support of the 30 migrant detainees who are currently on hunger strike at the Laval migrant prison, to protest the unjust and arbitrary reasons of their detention. I ask that you immediately release all detainees, as well as implement a comprehensive and inclusive regularization program. Migrants deserve dignity, not detention".
Solidarity with detainees at Laval migrant prison! No to detentions and deportations! Free them all! Status for all!
News about the situation: