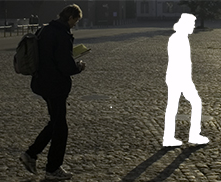 UPDATE/GOOD NEWS: After the CBSA refused to stop "David's" deportation, the United Nations stepped in, asking Canada to stop the deportation until the risk is evaluated. Canada has no reason to refuse the request. Meanwhile, his lawyer is working to get him released from detention as soon as possible based on the UN intervention. Huge thank you to everyone who wrote, called and spread the word!
Denied Access to Refugee Claim, "David" is at Risk because of his Sexual Orientation
Help Make Montreal a Real Solidarity City: CALL and WRITE to the Minister of Public Safety, the Minister of Immigration, and Mayor Denis Coderre to urge them to intervene immediately. All details below.
https://www.facebook.com/events/833030306846113/
Background
"David"* is an undocumented man in his 30s. He came to Canada to study and has been living here for more than six years. David was disowned by his family after rumours concerning his sexual orientation reached his home country.
Struggling with prejudices against his sexual identity and unable to return to his home country, David lost his status, and lived through many agonizing years in Montreal. Like other undocumented residents of the city, because of his immigration status, David was routinely denied access to vital social services, and lived in constant fear of being detained.
On 31 January, "David"* was getting a lift from a friend when the SPVM stopped the car in a random check and then ordered everyone in the car (not just the driver) to produce their ID. After the police ran his name through their system, David was arrested on a warrant issued by the Canadian Border Services Agency and handed over to immigration authorities. This is a clear example of profiling and a blatant violation of what a Sanctuary City is supposed to be!
Currently detained at the Laval Immigration Detention Centre, David faces deportation on 27 February 2017. If deported, David will be sent to a country where he is at risk because of his sexual orientation. It is important to note that, despite the well-documented risk, David was denied access to the refugee determination process (after his student visa expired and he was out of status, an exclusion order was issued against him before he had sought protection; in such circumstances, Canadian law prevents individuals from making a refugee claim).
What you can do
This is an emergency situation. We urge you to call the offices of the ministers listed below.
We also urge you to write two separate very brief letters: one to the federal Minister of Immigration (Ahmed Hussen), and the other to Minister of Public Safety (Ralph Goodale).
The Minister of Public Safety has discretionary power to grant a stay of deportation. The Minister of Immigration can issue a temporary resident permit, which is designed precisely for situations like this one.
You can also contact Montreal Mayor Denis Coderre to demand that he follow through on his Sanctuary City motion by intervening with the federal ministries.
1. CONTACT  Minister of Public Safety Ralph Goodale and Minister of Immigration Ahmed Hussen together urging them to grant "David" a stay of deportation and, at the very least, temporary residency. IMPORTANT, please cite UCI 6001-9960 in your letter (this is David's immigration number).
Public Safety Minister Ralph Goodale:
Ottawa: Telephone:613-991-2924 ; Toll Free: 1 (800) 830-3118 fax: 613-952-2240
Regina: Telephone: 306-585-2202 ; Fax: (613)954-5186
E-mails:ralph.goodale@parl.gc.ca  AND web contact form: http://www.publicsafety.gc.ca/cnt/bt/cntct-frm-eng.aspx?type=m
Minister of Immigration Ahmed Hussen:
Ottawa: Telephone: 613-954-1064 ; Fax: 613-952-5533
Toronto: Telephone: 416-656-2526 ; Fax: 416-656-9908
E-mails:  Ahmed.Hussen@parl.gc.ca AND Minister@cic.gc.ca
Please CC solidaritesansfrontieres@gmail.com to let us know that you've written letters and/or phoned the Ministers. Please also copy the office of Thomas Mulcair, thomas.mulcair@parl.gc.ca
2. CONTACT Montreal Mayor Denis Coderre and demand that he put the principles of a real Sanctuary City into effect by contacting the Ministers of Public Safety and Immigration and urging them to grant David a stay of deportation and, at the very least, temporary residency.
Mayor Denis Coderre
phone: Call 311 OR (514) 903-120 OR 514-872-0311 (outside Montréal)
E-mail: info@equipedeniscoderre.com
Please CC solidaritesansfrontieres@gmail.com to let us know that you've written letters and/or phoned the Ministers.