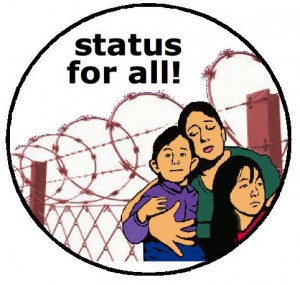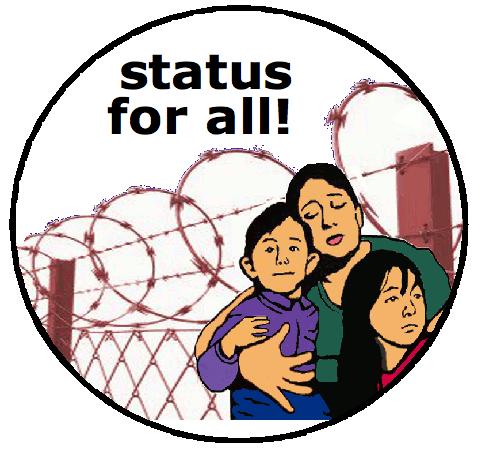 CALLOUT: STOP DEPORTATIONS! STATUS FOR ALL!
(Full details about the May 31 demonstration are available HERE.)
This year, we march in opposition to growing austerity measures and in solidarity with grassroots resistance efforts in Montreal and across Turtle Island. Over the past few months, sweeping cuts to social services – from health care, housing assistance and employment aid, to social assistance and education, etc. – have been announced, putting the future and accessibility of these services at risk. This neoliberal offensive is taking place not just at the provincial level: the federal government has gutted employment insurance, slashed health coverage for refugees, and cut paths to permanent residency. At the same time, it continues to serve the private interests of the extractive industry and the prison industrial complex, displacing and dispossessing directly affected people, particularly Indigenous and migrant communities. This is a continuation of the same colonial-capitalist policies that rely on the ongoing theft of Indigenous lands and resources and the denial of Indigenous self-determination. Austerity weighs most heavily on those who are the most precarious: Indigenous peoples, migrant workers, non-status residents, and new immigrants, who are targeted and criminalized through racist and discriminatory policies.
The continual scapegoating of migrant workers, immigrants and non-status residents hides the simple fact that austerity and neoliberalism can only occur on the backs of immigrant workers. Immigration policies create the precarious worker: there are a minimum of 500,000 undocumented residents in Canada[1], who mainly work below minimum wage through forms of day labour and temporary placement agencies; over 500,000 migrant workers[2], many of whom are tied to their employer; as well as thousands of landed immigrants who are relegated to low wage work for reasons of structural racism. These workers pay into public services that they are largely unable to access, effectively subsidizing our social services. Fears of deportation keep migrants in constant precarity and serve as a way to control labour and stop workers from demanding decent conditions. If we seek to fight austerity in all of its forms, the fight for status for all is central to lifting up labour conditions for everyone.
Despite growing cuts, the Canadian government continues to increase its spending on detention and deportation. In 2013, 19,000 migrants were deported by the Canada Border Services Agency[3] — an average of 52 deportations per day. This was made possible by a $2.1 billion increase in CBSA's budget in 2013, including an additional $16 million on immigration enforcement spending[4]. In addition, the Canadian state spends over $54 million a year to incarcerate migrants in jails and detention centres[5], often run in partnership with private companies such as G4S and Garda. The fact that Canada has spent a total of $7.5 million since 2012 on paying would-be refugees to leave the country and abandon their refugee claims speaks to the extent to which the government will spare no expense when it comes to excluding migrants.
This march importantly unfolds as Haitian community members are mobilizing to resist the deportation of more than 3500 members of our community as a result of the lifting of the moratorium on deportations to Haiti and Zimbabwe and are calling for a regularization program for all non-status people. Migrant workers are gathering in cities across the country to launch a campaign against the four-year limit on temporary foreign worker permits, which effectively subjects thousands of migrants to deportation as of April 1st. These efforts build on current and ongoing mobilizing efforts within many diverse communities — such Mexican and Roma migrants as well as domestic workers — as well as by individuals and families who are resisting their deportations.
This May 31st, we take to the streets in solidarity with members of our community, our families, our comrades, our friends. We will be marching to celebrate the resistance of those struggling against deportations and stand together in our struggles for justice and dignity. Join us!
(Full details about the May 31 demonstration are available HERE.)
________________________________
[1] According to a 2006 RCMP report.
[2] CIC, 2012: http://www.cic.gc.ca/English/resources/statistics/facts2012/temporary/01.asp
[3] According to a 2014 immigration law group meeting with CBSA.
[4] CBSA, 2015: http://www.cbsa-asfc.gc.ca/agency-agence/reports-rapports/rpp/2014-2015/report-rapport-eng.html
[5] NOII, 2014 & http://www.vice.com/en_ca/read/canadas-immigration-detention-system-may-be-worse-than-egyptian-prison