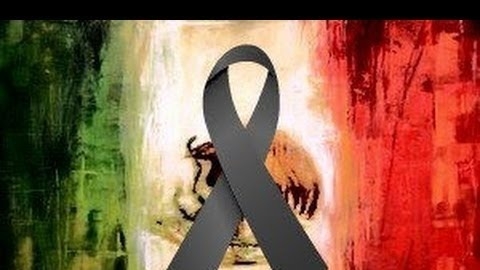 (This effort is endorsed by Solidarity Across Borders)
Please sign this petition: www.change.org/p/conservative-government-remove-mexico-from-the-refugee-list-of-safe-countries
WE ARE NOT INVENTING DEAD PEOPLE, NEITHER THE FEAR
Canada must remove Mexico from the list of safe countries for refugees.
Since Mexico signed NAFTA in 1994, 20 million Mexicans were forced to migrate, fleeing out of fear, only to die at the hands of organized crime or arepressive government (narco-state)… looking for a safe life in countries like Canada, which has a responsibility toMexicans because its mining business are provoking displacement, poverty, violence, natural disaster, social collapse and death!
One month ago, 43 students from the teacher's rural school Normal Rural Raúl Isidro Burgos-Ayotzinapa, in Guerrero-Mexico, went missing. During the night of Sept. 26 and the early morning of Sept. 27, the municipal police of Iguala, along with elements of the Mexican army, carried out an operation which resulted in six people dead (three of them students), twenty injured, and 43 students detained-disappeared (missing). This event is clearly a state crime carried out by organized crime, municipal police, and the army, with total impunity. Governor Ángel Aguirre, ousted from his position without any legal responsibility, mayor of Iguala, José Luis Abarca Velázquez and his wife María de los Ángeles Pineda, leader of the drug-cartel Guerreros Unidos were fugitives until Nov. 4. The municipal police chief, Felipe Flores is still a fugitive, while parents of the missing students have received death threats if they keep up their public claim demanding their sons be returned to them alive: "Alive they were taken and alive we want them!" One of the students, Julio César Mondragón was found with his face skinned and his eyes gouged out, as a message to the civil population who fight against repression.
It is politically and humanly immoral that the Canadian government has considered Mexico, its North American Free Trade Agreement partner, a safe country for refugees, since Feb. 2013, when Jason Kenney, then Minister of Immigration officially declared that this decision will discourage "bogus claimants who are seeking to take advantage of a system that allows them to stay in Canada for years even if their claims are rejected". Mexico is not a democratic country, the majority of its citizens live with fear, paying a lot of money to the narco-state to remain alive.
This is not only about the six students who were killed or the 43 who are still missing (considering the pain-terror that their families are living). It is also about the countless clandestine mass graves filled with dismembered bodies that have been discovered while searching for the students which is a Mexican reality that Canada does not want to recognize! While there are more than a hundred universities and more than 103 international organizations from around world, the European Congress, the UN and the OAS Inter-American Commission of Human Rights, and the United States government have openly admitted huge concerns about human rights violations in Mexico, Canada keeps quiet?
Andrés Barreda, guarantor of the Permanent People's Tribunal (PPT), Chapter Mexico, stated during an interview with Periodistas de a Pie, "Why if Canadian mining companies in the state of Guerrero where most of the gold in Mexico is found are very powerful and are taking huge amounts of this metal, have they not said anything about Ayotzinapa? Why has the Canadian government not commented about the violence that has occurred in Guerrero? This is a scandal! It is an extraordinarily suspicious silence. We know that narco-trafficking is linked to mining and it is territorial and geopolitical. It terrorizes the population and increase the vulnerability of the people who are stripped of their lands, where there are strategic resources like gold, iron, silver, manganese… Mining is implicated with narco-trafficking; they launder money together".
The Mexican government has authorized 200 concessions to Canadian mining companies in "CostaChica" and about 100 in "Costa Grande", both in Guerrero, granted up to for 50 years, withoutconsulting the population. According to the Centre for Human Rights Tlachinollan, there has been200,000 hectares of land ceded to Canadian mining companies to exploit and expropriate resources such as gold, silver, and zinc along 32 mining deposits of the 42 that exist in Guerrero.
Ayotzinapa is not an isolated tragedy, and it is not only about organized crime:
*43 students (16 to 22 years) from the rural teacher's college in Ayotzinapa-Guerrero, Mexico, were declared missing after a violent encounter with municipal and military corps, leaving a total of six people dead, three of them students (one of them skinned, leaving behind a young wife and a two month-old baby). More than twenty graves filled with corpses have been found in Iguala´s surrounding area. There is a precedent of violence against Ayotzinapa: in 2011, two students from the same school Normal Raúl Isidro Burgos were shot to death and another 20 tortured by the State of Guerrero Ministerial Police.
*On June 30 (2014), 22 people were killed (3 of them underage) by military forces in Tlatlaya, Estado de Mexico, the same state where Lucía Vega Jiménez, the 42 year old Mexican migrant who committed suicide while in CBSA custody on Dec. 20, 2013, at the Vancouver's Airport "Holding Centre", was fleeing from; it is more than obvious she didn't want to be deported to the most violent place in Mexico during 2013, also with the highest rates of femicides. Everyday 6.4 women are murdered in the country, between 2006 and 2012 femicides increased 40%.
*Approximately 130,000 Mexicans have been killed (including children and pregnant women) from 2007 to 2013. 36,718 people have died in the first twenty months of the current administration of Enrique Peña Nieto.
*According to Human Rights Watch more than 26,000 citizens have gone missing from 2005 to date. In the last two years alone, 4,397 people have disappeared in Guerrero.
*102 journalists have been killed since 2000, 24 are officially missing, and 222 have been assaulted in 2014 alone; also the National Commission of Human Rights has stated that every 26 and a half hours a journalist is attacked while 90% of these cases go unpunished.
*United Nations Human Rights office of the High Commissioner, after its Periodic Universal Exam, declared that Mexico and Central America are sub-regions with the most social inequality and come second place in the world in terms of violence with 26 people murdered per each 100,000 residents.
*Human rights violations include 4,841 reported cases of torture and 9,758 cases of kidnapped migrants and trans-migrants. Of these, 158 cases are collective, with no fewer than 50 victims each.There are countless numbers of immigrants from Central and South America who have been murdered, disappeared, kidnapped, extorted, raped and/or assaulted while crossing through Mexico. The tragedy of the 72 migrants brutally killed in 2010, San Fernando, Tamaulipas (58 men and 14 women, although some journalists talked about more migrants murdered), remains unpunished for their families!
*The Inter-American Commission of Human Rights has recently denounced Mexico for 2,000 children disappeared or been killed; they have been proven to be connected to Mexican state-forces.
*According to the Organization for Economic Co-operation and Development (OECD) in terms of economic inequality, Mexico ranks second worst in the world. 45.5% of the population (53.3 million people) live in poverty, of which 9.8% (11.5 million) live in extreme poverty; likewise 23.3% (27 million) of the population are living in food poverty with 12.5%  chronically malnourished.
*As a result of a failed state, there are self-defense and community police groups in 15 states of the country, which covers at least 106 municipalities (5.11% of the Mexican territory). These are mainly located in three states: Michoacan, Guerrero, and Chiapas.
*From 2008 to date, 90 activists were unofficially executed at the hands of public officials while defending human rights, also 669 arrested. The activism in Mexico has a terrible reputation in terms of security and freedom but it is rich in spirit and history. Just to mention: Mariano Abarca was assassinated on the night of November 27, 2009 in Chicomuselo in front of his house; he was shot in the head and chest by a man on a motorcycle who was a Blackfire (a Canadian mining company) employee. He had been abducted in August 2009, and again received death threats during the week of his death and had filed a complaint against the company one day prior to his death.
*Since Mexico signed NAFTA in 1994, 20 million of Mexicans have been forced to migrate, fleeing out of fear, poverty, and lack of freedom, looking for a safe life in countries like Canada and the United States.
*The indigenous activist for human rights, Nestora Salgado, was unjustly incarcerated in 2013 for defending her community from organized crime and mining. She was the Regional Coordinator of the Community Police Community (CRAC-PC) when the navy detained her illegally. We demand she be released from prison. Her daughters have received death threats, while she is still being punished in jail.
*The expense of corruption in Mexico is 1.5 billion dollars annually, according to the Center for Economic Studies of the Private Sector.
Although we are raising our voices for Mexico, this is not only about Mexico: it is also about all the countries included on the list of Designated countries of origin which are NOT SAFE for their citizens.
*Canada must review the Refugee Protection Act and rectify the list of Designated countries of origin: it is not only about Mexico! People from other countries are suffering similar atrocities, including mining.
*Canada used to say when employees, officials and judges from CIC (Canada and Immigration Citizenship) and IRB (Immigration and Refugee Board) denied refugee claimants under the offensive argument that, "our presidents and authorities work to provide us security"; then CBSA deports failed refugee claimants back to their "safe" countries of origin, often to vulnerable conditions… to die. Veronica Castro died days after CBSA deported her to Mexico.
We love our beautiful beaches, and we are very proud of our roots and cultural heritage. Nevertheless, Mexico has been plundering one and another and another time for the people in the power. So, no matter what they say (Enrique Peña Nieto, Felipe Calderón…), Mexico is not a safe country: we are not inventing all the people disappeared, decapitated, dismembered, skinned, cut into pieces and bagged; people hanging from the bridges with a narco message to terrify all the population who knows that if they complain can be the next one dead. All these people we have lost in this stupid-fake drug-war, have a name, a story, and a family full of sadness, impotence and fear.
For the reasons cited above (and more), migrants, activists, writers, journalists, students, agricultural workers, artists, filmmakers, indigenous, parents whose loved ones are missing or have been killed by the state; members of human rights and social justice organizations across Canada, Mexico, Latin America, and members of the international community, demand the Canadian government remove Mexico from the list of safe countries for refugees, and stops the indiscriminate and illegal exploitation of strategic natural resources through murderous mining.
They were taken alive, we want them back alive!
[source: www.mexregularizacion.org/en/we-are-not-inventing-dead-people-neither-the-fear]