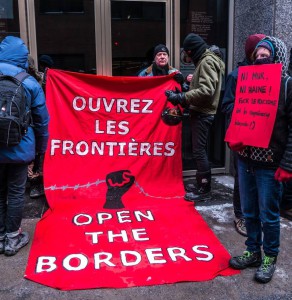 Community Members Successfully Shut Down US Consulate, Call for Continued Direct Action to End Canadian Complicity in Racist Violence

On Monday in Tiohtia:ke (aka Montreal in occupied Kanien'kehá:ka territory), hundreds of people outraged and sorrowed by the horrifying intensification of Islamophobic violence on both sides of the border shut down the US consulate.
Standing front of the consulate doors with banners and signs, first in silent sorrow and anger, protesters then began spontaneously chanting together- not only against Trump's Muslim ban, but also against the racism that runs rampant across the Quebec political spectrum, against Canada's exclusionary immigration policies, and against white supremacy
.
The ad-hoc group demanded the immediate opening of the US-Canadian border, an end to the safe the safe third country agreement and designated country of origin list, and an ongoing, comprehensive regularization program for undocumented people already in Canada (for more information on these demands see
www.solidarityacrossborders.org
).

The consulate doors were locked from the inside, and for the duration of the demonstration no one was able to enter or leave, effectively shutting down business as usual.This action was not difficult to organize, and did not require a huge crowd to be successful. We believe it offers hope that, from our different starting points, in our different ways and capacities, many of us may be able to find ways of working with other community members to defend ourselves against and disrupt the institutions furthering racist and Islamophobic violence. We hope that such actions can be undertaken in a spirit of pushing the borders out of our city and transforming our communities into spaces of mutual aid and support- our vision of a Solidarity City. Not only is it possible, the current situation is forcing it on us.While Canadian politicians contort themselves to avoid denouncing Trump, while the media, caught in the racist stereotypes it helps perpetuate, fumbles with the difference between a shooter and a witness, and while the same public figures who yesterday insisted that Muslims do not belong in our communities, today express disbelief at the tragedy, we should not expect and cannot wait for these same accomplices to protect out communities. This is a threat we must face head on. Many among us have no choice but to face it – having already been harmed by its violence. Those who do have a choice, have all the more responsibility to stand in solidarity and fight back, according to our different capacities and means, and in our different contexts.After the success of today's action, we encourage everyone to join together, be creative, try new things, and above all to take concrete action to disrupt racist violence!
Photos of the action available here:
Media Coverage:
*Montreal Gazette
*The Link