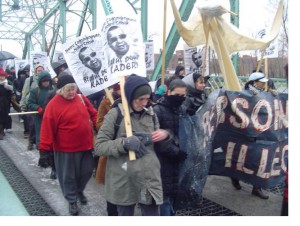 Saturday, 21 March 2015 at 6pm
Point St. Charles (location tba)
On February 5th, 2015, Abdelkader (Kader) Belaouni obtained his Canadian citizenship after a 12-year struggle, including almost four years in church sanctuary.
On January 3, 2006, nine years earlier, Kader made a statement from St. Gabriel's church, where he had taken sanctuary three days earlier, "I'm not hiding from Immigration Canada, but I want to tell them clearly, I will not be presenting myself for deportation. I've been able to achieve autonomy and dignity in Montreal, and I don't want to lose that. My family are my friends here. I am here to defend myself; I am here to defend justice."
Kader spent the next four years of his life confined to St. Gabriel's church before obtaining permanent residency in 2009. His citizenship comes nine years after he first entered the church, twelve years after arriving in Canada, and eighteen years after leaving Algeria. It has been a long and difficult struggle for stability, equality, justice, and dignity.
As a blind refugee claimant from a working class background in Algeria, Kader struggled against the barriers he faced as a migrant, as someone living in poverty, and as a person living with a disability. The ableism of Canada's immigration policies and of Canadian society was made clear through the repeated portrayal of Kader as a "burden to society" in early media coverage and through the abject refusal of various bureaucrats to take into account the reality of his disability in their decisions on his file.
Since obtaining permanent residency, Kader has been working at the Immigrant Workers Center in Côte-des-Neiges, contributing his valuable experience to the fight for justice for migrant workers. He also volunteers at the YMCA in his neighborhood of Pointe-St-Charles. His steadfast determination and resilience in the face of layers of discrimination is a direct challenge to the ableist rhetoric that has been used against him and so many others.
While Kader and his many friends and supporters celebrate this victory, the Canadian government continues to operate Canada's deportation, detention, exploitation, and discrimination machine.
In 2013, there was an average of 52 deportations every day, and we are seeing more and more non-status people forced into highly exploitable and vulnerable situations.
The recent Protecting Canada's Immigration System Act (more aptly dubbed the "Refugee Exclusion Act") has established a discriminatory two-tier asylum system, denying crucial rights and protections for certain refugees based solely on their nationality. Some refugees now designated as "irregular arrivals" are also subject to mandatory arrest and detention.
Over the years, Kader's campaign for status received strong and inspirational support from hundreds of individuals and organizations, including unions, religious groups, disability rights groups, student associations, feminist organizations, migrant justice collectives and community groups. This support stretched from Kader's neighbourhood of Pointe St-Charles to the rest of the country, and internationally.
Securing Canadian citizenship marks a significant victory not only for Kader and his supporters, but for others struggling against ableism and for status in Canada. It is a victory for the movement for migrant justice – a movement that confronts violent immigration and border policies and seeks a world without borders where all people can move freely and live with dignity.
——
le Comité de Soutien pour Abdelkader Belaouni
Support Committee for Abdelkader Belaouni