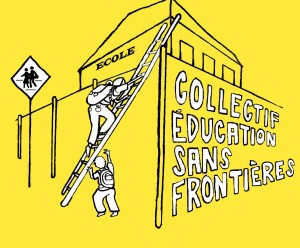 Attention News Editors: For immediate release
Will children without immigration status still be excluded from Quebec schools this fall?
The Education For All Collective demands concrete answers from the Minister of Education
(For more information, please contact Anne Buisson (514 553 6872) or Jean-Guy Séguin (438 933 7654) of the Collectif éducation sans frontières (Education For All Collective) , or by e-mail at solidaritesansfrontieres@gmail.com)
(Montreal, August 19, 2013) On June 21st, 2013, Marie Malavoy stated that for children without legal immigration status "it is [her] duty and responsibility, as Minister of Education, to act quickly so that these children be in class this fall." (info: www.mels.gouv.qc.ca/ministere/info/index.asp?page=communiques&id=1660)
Two months after that press conference, there is no indication that children without immigration status living in Quebec can in fact plan to attend school this fall. The August 28 start of the school year is fast approaching; and no concrete measures have been communicated by the Ministry concerning free schooling for children of migrants without status. Numerous questions remain unanswered:
1- How will children without status be able to register like other children, that is, without cost and with a permanent code that allows them to take full advantage of their education? What is the "enlarged administrative framework" promised at the press conference? What are the additional "categories of students" who will be "except from financial contributions"?
2. How will the confidentiality of families be guaranteed? Does the Act Respecting Access to Documents Held by Public Bodies and the Protection of Personal Information apply to families without status? (The Minister has not made any commitment to guarantee the confidentiality of information about families, despite this being essential to the schooling of children without status.) It should be sufficient to allow the free registration of children with a simple proof of residence (notarized statement, lease or bills).
3- When will school boards stop demanding that children without immigration status pay tuition?
4. How will the Minister publicize the new regulations?
All these questions are addressed in more detail in an open letter sent to the Minister as well as schools boards (the letter is available, in French, here: www.solidarityacrossborders.org/wp-content/uploads/LettreOuverteMaroisMalavoyJuillet2013.pdf).
The school year begins August 28. Children without full immigration status cannot wait indefinitely for recent decisions to tangibly open the doors of Quebec's primary and secondary schools. Answers from Premier Pauline Marois and Minister Marie Malavoy are urgently needed.
-30-
Pour plus d'informations veuillez contacter :
Anne Buisson, Collectif éducation sans frontières: 514 553 6872
Jean-Guy Séguin, Collectif éducation sans frontières: 438-933-7654
courriel: solidaritesansfrontieres@gmail.com
+++++++++
Solidarité sans frontières: www.solidaritesansfrontieres.org
Solidarity Across Borders: www.solidarityacrossborders.org
Solidaridad sin fronteras: www.solidarityacrossborders.org/es
e-mail: solidaritesansfrontieres@gmail.com
facebook: www.facebook.com/CiteSansFrontieres
twitter: @SolidariteMTL
tél.: 438-933-7654
++++++++++