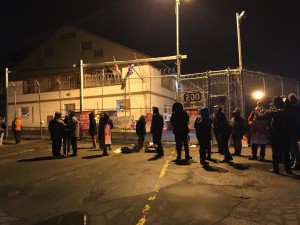 Bring Lucy Back; Hold CBSA Accountable
On Friday April 13th, to the deep grief and rage of many, Lucy Francineth Granados was deported to Guatemala, accompanied by two CBSA agents and a doctor. She arrived in Guatemala after a long flight, alive but traumatized and unhealed from her violent arrest three weeks earlier.
After the federal court refused to stop Lucy's deportation on Thursday evening and in the face of continued silence from the Minister of Immigration Ahmed Hussen, one last effort was made to stop the deportation. Around 50 people arrived at the Laval Immigration Detention Centre shortly after 3am on Friday morning. Armed with banners, balloons, flowers, music, and love, they chained the gates and barred the exits, hoping to prevent Lucy's deportation until Lucy's immigration application was decided.
— > Photos of the sit-in at the Laval Immigration Detention Centre
— > See what you can do below
Lucy caught a brief glimpse of her friends before officials hustled her out the back, going to the incredible length of cutting a fence to get her out, so determined were they to get rid of Lucy and silence a campaign that has drawn public attention to CBSA abuse. Surrounded by tense CBSA agents and police crying "vite, vite," Lucy was frog-marched to a CBSA vehicle waiting on a nearby road. Accompanied by many cars, she was brought to the airport, driven directly onto the tarmac and mounted the plane, which took off 15 minutes later. She was forced to leave all her baggage behind, and arrived in Guatemala with only the clothes on her back. "That was a kidnapping, what they did with me." Lucy said to friends.
Meanwhile, several CBSA vehicles idled near the exits of the detention centre, leading many people present to believe Lucy might be inside one of them. A dozen black-clad, armed police agents marched in military formation to install themselves in front of supporters at one exit. It now seems that at least some of the vehicles could well have been a ruse to distract attention from Lucy's being forced out the back. Unaware that Lucy had been moved out of the Detention Centre, the singing and dancing and music in front continued until around 10am, when CBSA confirmed that Lucy had been deported.
Outraged by Lucy's deportation, members of No One Is Illegal in Toronto disrupted a talk by Immigration Minister Ahmed Hussen on Friday evening (link video), demanding an answer to over three weeks of constant cross-country mobilization that included visits to MPs, phone calls and emails to Hussen's offices, letters, articles, rallies, vigils, and an 8-day sit-in, as well as a petition with over 14 000 signatures. No One Is Illegal demanded that Hussen bring Lucy back to Canada, end deportations and grant status to people living in Canada without status.
Over the last weeks, an enormous effort was made to prevent CBSA from ripping apart our community by deporting Lucy. So much love to all who supported Lucy in many ways. This effort was not only a show of love for Lucy, but of solidarity and respect for all undocumented community members. It was an assertion of community over the violent exclusions made real every day by Canada's immigration system. It succeeded in many ways, even as it revealed the ruthlessness of the Canadian government, which poured resources into ensuring that community support would not stop the deportation of this undocumented single mother. In the coming days, we will grieve this loss and gather new energy to continue this vital struggle.
ACTION: Bring Lucy Back; Hold CBSA Accountable
It is very important not only for Lucy and her family, but for the hundreds of thousands of other undocumented migrants in Canada, that the government not be allowed to get away with this. Here are several actions you can take:
1. Call and write Immigration Minister Ahmed Hussen on MONDAY, 16 April and Tuesday, 17 April
Lucy's application for permanent residence on humanitarian and compassionate grounds (H&C) is still under treatment; if it is accepted she may be able to return to Canada. Lucy's file is very strong and under normal circumstances, if she were still in the country, it would have been accepted. However, it is very unusual for H&Cs to be accepted once the applicant is deported. As such, public support is needed.
Call or write Ahmed Hussen and ask him to accept Lucy's Humanitarian and Compassionate file immediately so that she can return to her home and community.
Phone: 613-995-0777 + 416-656-2526
Email: Ahmed.Hussen@parl.gc.ca + minister@cic.gc.ca
2. Call and write Public Safety Minister Ralph Goodale on MONDAY, 16 April and Tuesday 17 April
Why was the government so determined to deport Lucy? This question should be asked as loudly and as often as possible. In January, a CBSA agent called Lucy's lawyer and threatened that her application for permanent residence on humanitarian grounds would not be treated if she did not turn herself in for deportation. This added greatly to Lucy's stress; it was also false. On March 20th, Lucy was violently arrested by four CBSA agents who came to her home. She was thrown onto a table and then the floor, her arm was twisted behind her back, and the agent kneeled on her back. Three weeks later, her arm remains only partially mobile and her hand is numb and discoloured; her neck and back are bruised and she has a pain in her chest. Lucy's treatment is creating a chill effect: other undocumented migrants are afraid to try to regularize their status in case they draw attention to themselves.
Call and write Public Safety Minister Ralph Goodale, asking for investigation into CBSA conduct towards Lucy and for charges to be laid against the agents involved
Phone: 613-947-1153 + 306-585-2202 + 613-991-2924
Email: ralph.goodale@parl.gc.ca + Hon.ralph.goodale@canada.ca
+++++++++
Solidarité sans frontières: www.solidaritesansfrontieres.org
Solidarity Across Borders: www.solidarityacrossborders.org
Solidaridad sin fronteras: www.solidarityacrossborders.org/es
e-mail: solidaritesansfrontieres@gmail.com
facebook: www.facebook.com/CiteSansFrontieres
twitter: @SolidariteMTL
tél.: 438-933-7654
++++++++++