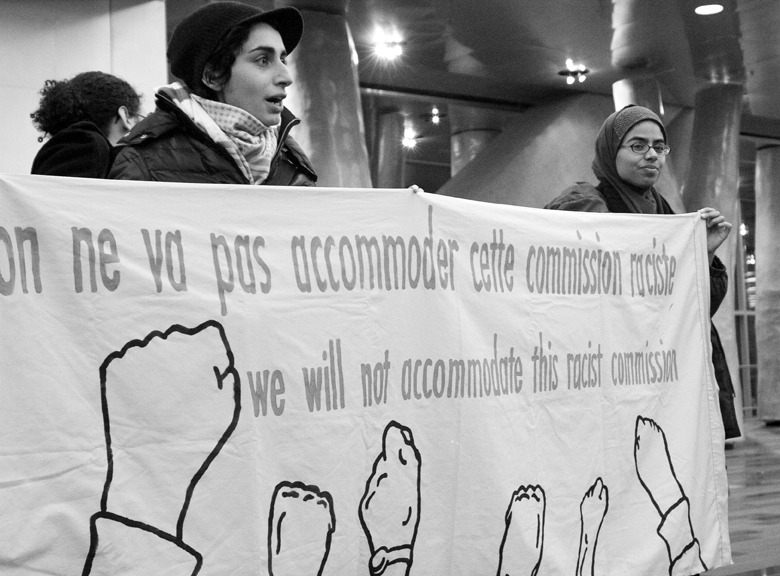 In resistance to racism, sexism and xenophobia
In support of struggles for self-determination and liberation
In opposition to the proposed "Charter of Quebec Values"
ORGANIZING MEETING
MONDAY, SEPTEMBER 9, 6:30pm
at 1500 de Maisonneuve West, #204
métro Guy-Concordia (MONTREAL)
wheelchair accessible – on-site childcare – whisper translation (English-French)
This initial meeting will discuss organizing together to oppose the "Charter of Quebec Values" that is being proposed by the PQ government, and constitute an attack on the dignity of diverse communities in Quebec. This meeting will take place on the same day that the details of the proposed Charter will be officially announced at the National Assembly in Quebec City.
The meeting is being called on the basis of the following statement issued in 2007 by No One Is Illegal Montreal during the debates around "reasonable accommodation": http://nooneisillegal-montreal.blogspot.ca/2013/08/the-reasonable-accommodation-debate-in.html
This meeting is open to anyone in basic agreeement with the above statement. Everyone is welcome to attend, but facilitators will prioritize the experiences and voices of Indigenous and/or racialized persons. This is an organizing meeting, to discuss together tangible plans in the coming weeks and months to oppose and resist the proposed Charter, rooted in the day-to-day organizing of our communities. Preliminary ideas include a large-scale anti-racist, anti-sexist, anti-xenophobia march in Montreal this fall, as well as popular education efforts.
-> If you are attending, please let us know so we know how many people to expect.
-> If you cannot attend, but would like to stay in touch about future efforts and organizing, get in touch as well.
-> If you are part of different, but allied efforts, please get in touch. In the coming weeks and months, we should work together!
Courriel: nooneisillegal@gmail.com
Facebook: www.facebook.com/NoOneIsIllegalMontreal
Site Internet: www.nooneisillegal.org
Twitter: www.twitter.com/NoOneIsIllegal
An initiative of No One Is Illegal-Montreal.
This initiative is endorsed by Solidarity Across Borders.