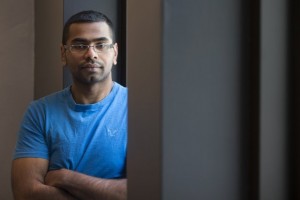 Montreal resident Sami Sheikh, who has lived in Parc-Extension for 12 years, is facing an imminent deportation to Pakistan. Sami arrived in Montreal at the age of 12, and has lived, studied and worked here ever since. His parents and family were initially accepted as refugees, but had their status revoked in 2007. Sami has never lived in Pakistan.
Solidarity Across Borders is working actively with Sami Sheikh and many allies to raise awareness about his pending deportation. For more info about Sami's case, read below or visit www.SamiChezNous.ca (or www.facebook.com/SamiChezNous)—– 
* Message from Sami Sheikh
"My name is Sami Sheikh. I live in Parc-Extension, in Montreal.
I moved to Montreal in December 2000 when I was 12 years old and I have lived here ever since.
I was born in the United Arab Emirates, where my parents were working; they are from Pakistan. They came to Canada to claim refugee status because of my father's involvement with the PPP, a centre-left political party in Pakistan.
Our refugee claim was immediately accepted in 2001 and we filed for permanent residency. …"
-> Read more here: http://famillesheikh.wordpress.com/2012/12/02/a-message-from-sami/
—
* Press Conference: Stop the deportation of Sami Sheikh
Wednesday, December 5, 10am at Café Artère (Parc-Extension): Anyone who is opposed to Sami's deportation, and who wishes to show their support are strongly encouraged to attend the press conference this Wednesday. Please arrive before 9:45am.
-> info: http://famillesheikh.wordpress.com/2012/12/03/avis-aux-medias-media-advisory-conference-de-presse-press-conference-mercredi-10h/
—
* How you can help
You can support Sami Sheikh by doing the following:
i)      WRITE a letter to both Jason Kenney (Minister of Citizenship and Immigration) as well as Vic Toews (Minister of Public Safety, responsible for the Canada Border Services Agency) asking that Sami Sheikh be allowed to stay in Canada as a permanent resident, and that his deportation be annulled. Please cc your correspondence to Solidarity Across Borders:
– Jason Kenney: Minister@cic.gc.ca
– Vic Toews: to send a message, visit www.publicsafety.gc.ca/abt/min-eng.aspx
– Solidarity Across Borders: solidaritesansfrontieres@gmail.com
If possible, also PHONE Immigration Minister Jason Kenney in Ottawa at: 613-954-1064
ii)    We encourage you to WRITE a letter and PHONE to the Quebec Minister of Immigration and Cultural Communities, Diane de Courcy, and urge her to pressure the federal government to allow Sami Sheikh to stay in Quebec.
Diane de Courcy
Tel : 514 873-9940
E-mail : cabinet@micc.gouv.qc.ca
iii)   Sami Sheikh's local Member of Parliament is Justin Trudeau. He can effectively and publicly intervene to help to stop this deportation, but needs to be encouraged by local residents. Please PHONE and WRITE encourage Justin Trudeau to take a public stance in opposition to Sami's deportation.
Justin Trudeau
Tel: 514-277-6020
E-mail: justin.trudeau@parl.gc.ca
If possible, directly visit Justin Trudeau's constituency office in Montreal at 529 Jarry East, suite 302 (opposite métro Jarry) to ask that Justin Trudeau take a public stand.
iv)   We encourage you to share widely the weblink (www.SamiChezNous.ca) and facebook page (www.facebook.com/SamiChezNous) in support of Sami Sheikh. Encourage your friends and contacts to write the letters and make the phone calls we urge above.
—
* Media Articles
– CBC News:  Montreal man at risk if deported to Pakistan, lawyer says
info: http://www.cbc.ca/news/canada/montreal/story/2012/12/02/montreal-deportation-sheikh.html
– La Presse: Un Montréalais est menacé d'expulsion vers le Pakistan, où il n'a jamais vécu