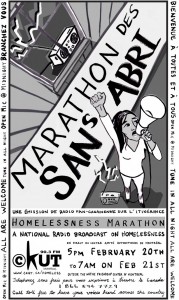 Solidarity Across Borders is hosting one hour of the 11th Homelessness Marathon. We'll be broadcasting live outdoors on Thursday, February 21from 6am-7am in front of the Native Friendship Center at the corner of St-Laurent and Ontario. The Homelessness Marathon itself takes place from 5pm tonite (Wednesday, February 20) until 7am tomorrow (Thursday, February 21).
You can listen live at 90.3FM in Montreal, or stream online www.ckut.ca everywhere. More information about the Homelessness Marathon is available here: http://ckut.ca/homeless/
The Solidarity Across Borders hour of the Homelessness Marathon, which will be in French, will highlight housing and homelessness struggles, as part of the broader Solidarity City campaign which aims to secure Housing for All (for anyone on the island of Montreal, including non-status migrants).
You can get more information about the Solidarity City campaign here: www.solidarityacrossborders.org
The recently launched Solidarity City declaration is linked here: www.solidarityacrossborders.org/en/francais-declaration-pour-une-cite-sans-frontieres
The hour will be co-hosted by Jaggi Singh (member of Solidarity Across Borders & No One Is Illegal-Montreal) and Olivier Prudhomme (member of Solidarity Across Borders and the Comité d'Action de Parc-Extension).
Our scheduled guests include:
JOYCE ROCK – Organizer with Sac à dos in Montreal, about homelessness and gentrification in downtown Montreal.
FRANCOIS SAILLANT – Organizer with housing rights organization FRAPRU, about housing issues in Quebec, as well as the recent Commission Populaire into housing organized across Quebec by FRAPRU.

GAETAN HEROUX – Organizer with the Ontario Coalition Against Poverty (OCAP), about recent actions against homelessness in Toronto, including the opening of a homeless shelter within City Hall.

SHEETAL PATHAK – Organizer with Project Genesis in Côte-des-neiges, about local housing struggles and conditions.
OLIVIER PRUDHOMME – Organizer with the Comité d'action de Parc Extension (CAPE) about local housing struggles and conditions.
You can listen live at 90.3FM in Montreal, or stream online www.ckut.ca everywhere. More information about the Homelessness Marathon is available here: http://ckut.ca/homeless/
INFO:
Homelessness Marathon: www.ckut.ca/homeless
Solidarity Across Borders: www.solidarityacrossborders.org