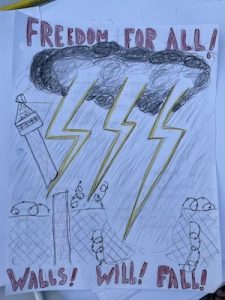 Free the Detainees, Status for All: Art-Making and Letter-Writing Night in Solidarity with the Laval Migrant Prison Detainees
Friday, September 22, 2023
4pm-6pm
Place de la Gare Jean-Talon, outside Metro Parc
Facebook
Join us for an evening of art-making and letter-writing in solidarity with detainees at the Laval migrant prison!
For over a week, detainees carried out a hunger strike at the Laval migrant prison. While their strike has since been suspended, their struggle to denounce the arbitrary and unjust reasons for their imprisonment continues.
We hope to see you all in large numbers to let the detainees know that they have not been forgotten and that we support their struggle.
We will also be collectively writing letters to Public Safety Minister Dominic Leblanc to reiterate that the only solution is to release the detainees- and to implement a full, inclusive regularization program!
Solidarity with the detainees! Free them all, status for all!
Photo Gallery: https://www.facebook.com/media/set/?set=a.697494009079745&type=3