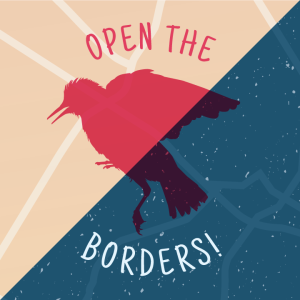 OPEN THE BORDERS! STATUS FOR ALL!
SUNDAY, JUNE 18, 2017
March for justice and dignity for all migrants and refugees
2pm: GATHERING / STARTING POINT
Nelson Mandela Park (Plamondon metro)
Victoria Avenue, between Vézina and Barclay
We will march through the neighborhood of Côte-des-Neiges.
Following tradition, this march is family friendly! Kids of all ages are welcome.
Please get in touch about any accessibility needs.
www.solidarityacrossborders.org
Facebook Event: https://www.facebook.com/events/1841226389534614/
—–
Join us for the annual Status For All demonstration, organized by Solidarity Across Borders and friends. Since 2004, we have marched annually in the streets of Montreal. This year, we will be marching in Côte-des-Neiges, to demand an end to deportations, detentions and double punishment, and to support a full, comprehensive and ongoing regularization program (ie. Status for All!). We support open borders and the free movement of people seeking justice and dignity, meaning freedom to move, freedom to return, and the freedom to stay.
This year, this demonstration takes on particular meaning as we march in support of a Solidarity City. Recently, the Montreal City Council misleadingly declared itself a Sanctuary City, falsely giving the impression that Montreal no longer cooperates with the Canadian Border Services Agency. In past months we have seen the increasing normalization of the far right, attacks on migrants and the explicit fortification of borders; in response, symbolic gestures like Montreal's deeply misleading "sanctuary city" announcement have done little to challenge border violence.
In this context, the struggles of migrants and their allies have become more critical than ever. In spite of tremendous obstacles people the world over continue to exert their right to move, to stay, and to return, traversing conditions ranging from deadly seas, scorching desert to freezing snow in the search of safety, peace or opportunity. Thousands of them live undocumented in Montreal and across the country, forced into precarious and exploitative work, without access to healthcare, education, or other essential services, and under constant threat of deportation. These are our neighbors, our friends and family. Join us in lending our voices to these struggles — struggles of daily resilience, of quiet resistance, of perseverance. Let's come together to make Montreal a true Solidarity and Sanctuary City, from the ground up. Let Montreal's streets ring as we chant "Status for all! Open the borders!"
—–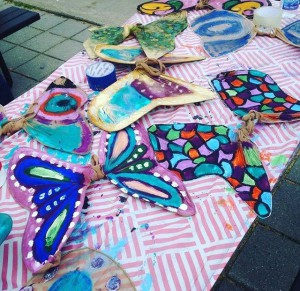 – GET INVOLVED: We encourage your participation in mobilizing for this year — postering, flyering, phone-arounds, social media, support events, fundraising and more. Get in touch to lend a hand.
– ENDORSE: We encourage your organizations's endorsement of this year's march. An endorsement means your group supports the demands of our march, and will minimally publicize the march among your members. To endorse, please e-mail solidaritesansfrontieres@gmail.com.
– DOWNLOADS (posters & flyers):
– FOR A SOLIDARITY CITY!: We encourage Montreal-area organizations and groups to discuss and collectively sign this declaration:www.solidarityacrossborders.org/en/francais-declaration-pour-une-cite-sans-frontieres
– VIDEO: STATUS FOR ALL. View here: www.youtube.com/watch?v=za8n_BTy2O0
– VIDÉO: Les frontières canadiennes détruisent les familles. www.youtube.com/watch?v=wgbeaCsM94k
—–
A note about the image of the poster by the poster's design artist Chachi: The map in the background is of the US / Canadian border. Hints of night/day is to touch on the nights and days that one must travel to cross the border in hopes of a safer place. The bird is also stepping out from the darkness or "underground" into the light. The bird used for the imagery is a European Starling due to their tactic of migrating in large numbers as a form of "power by numbers". The bird's beak is open because when birds are threatened they send out an "alarm" chirp. Sometimes this is to draw away attention from a baby bird that can not defend itself. Often other birds will begin to send out the same chirp so that the predator gets confused and goes away.