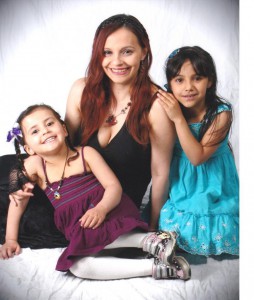 need $2000 by 28 February
donate: indiegogo (or see other options below)
Sheila was scheduled to be deported to Mexico on August 30th, 2014. Deportation would have separated her from her two daughters, age 8 and 6, and from her partner, and sent her without a penny to Mexico, where she has no support and where hasn't lived since she fled life-threatening violence a decade ago.
With a lot of public support, Sheila won a temporary reprieve on August 26th. Last week, she got the good news that her humanitarian application was accepted and she will now be able to apply for permanent residence. It's still a long road, but she's finally on track to getting her papers in Canada, after a decade in the country.
Sheila's battle against immigration was exhausting both morally and financially. Legal and administrative fees not only exhausted her and her partner's resources, they left them heavily in debt. Declared non-status after her sponsorship was anulled because of her former sponsor's criminal record, Sheila's health coverage and work permit were cancelled; she was denied access to social assistance and child benefits. Suffering from a bicycle accident last year, Sheila has had neither the time nor the money to undergo a needed knee operation; she is left in constant pain and dependent on a crutch to walk. In the fall, another calamity befell the family when her partner lost his job, got sick and was hospitalized; despite a huge effort, he has as yet been unable to find work since his recovery.
Although the family's situation is turning around at last (Sheila's work permit is finally in the process of being renewed and she will be able to work soon; her permanent residence is within view), they are currently in urgent need of funds to repay legal debts linked to the immigration battle and, most urgently, to pay rent, bus passes, and groceries.
Please give generously to show your solidarity with Sheila and her family and all non-status people forced to fight to keep their families together and meet the most basic needs.
No amount is too small!
To donate
Online: **indiegogo** OR via paypal on www.solidarityacrossborders.org (note that it is for "SHEILA")
Cash: contact solidaritesansfrontieres@gmail.com to make arrangements.
Cheques: make your cheque out to "Solidarité sans frontières" and put "Sheila" in the memo line. Mail to Solidarity Across Borders-QPIRG Concordia, 1500 de Maisonneuve Ouest, #204, Montreal, QC H3G 1N1.
Background
Radio Canada
Gazette
Personal Statement
END the violence of deportation!
Status for All! No one is illegal!