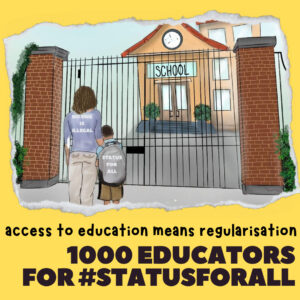 Nov. 7, 2022 – As federal cabinet prepares to decide on the parameters of the upcoming regularization program for undocumented migrants, nearly 1,000 educators from across the country have sent a letter to Prime Minister Trudeau and Minister Fraser. The letter calls for the regularization of all undocumented migrants and their families and permanent resident status for all migrants with a temporary status as a matter of ensuring access to education. The educators also call on provinces to guarantee access to education to all. Many undocumented and other migrant children and adults are shut out of schools and colleges, while international students risk losing status because they cannot pay the astronomical international fees.
Undocumented children have reduced access to social rights and services, including education. Raquel, whose family lost status when she was 14 years old, explains the pain and uncertainty she went through as a Montreal high school student, "I was very worried about my future. My strong desire to study was crushed by a system rich in education, but poor in empathy." Ten years later, Raquel, who came to Canada at 9 years old, is still fighting to continue her education.
Canadian Border Services Agency officers have been known to wait outside schools to apprehend parents, including in May of this year in New Westminster, BC. While years of mobilization have ensured that some provinces have now passed laws allowing access to education to undocumented minors, most still do not. Access to postsecondary education for young adults is even more difficult.
One of the signatories, Toronto's York University professor Dr. Cynthia Wright, commented, "Without access to education, your life is altered forever, and the entire society suffers. An inclusive regularization that leaves no one behind is an essential means to ensure access to education across the country."
There are at least 500,000 undocumented people in Canada, as well as 1.2 million people on temporary permits, which includes at least 600,000 people on study permits.
Rosalind Wong, a Montreal elementary and special education teacher, says: "When you are going to school, but you're afraid of deportation and you can't get healthcare and your parents are trying to survive every day, it is incredibly hard to study. This is the reality for many precarious status students. Children deserve to grow into healthy adults, and that requires a regularization program without delay."
The letter – also signed by faculty unions, research centres and advocacy groups – insists that "Education not only provides the training and skill sets for securing livelihood but serves as a key site for fostering critical inquiry, social connections and interpersonal skills" and "calls on the federal government to regularize all undocumented people and ensure permanent resident status for all 1.7 million migrants."
The educators from all levels who signed this statement insist that in education, as in other sectors of society, "[i]t is time for equal rights for all, and that means full and permanent immigration status for all."
Undocumented migrants, including those denied education, will be in Ottawa for meetings with the federal cabinet on November 14, 2022.
Background:
Comprehensive and inclusive regularization plan proposed by Migrant Rights Network: https://migrantrights.ca/resources/regularization-in-canada/
Full statement and list of signatories: https://www.thesocialjusticecentre.org/blog/2022/11/4/educators-call-for-the-regularisation-of-undocumented-migrants-status-for-all-and-education-for-all