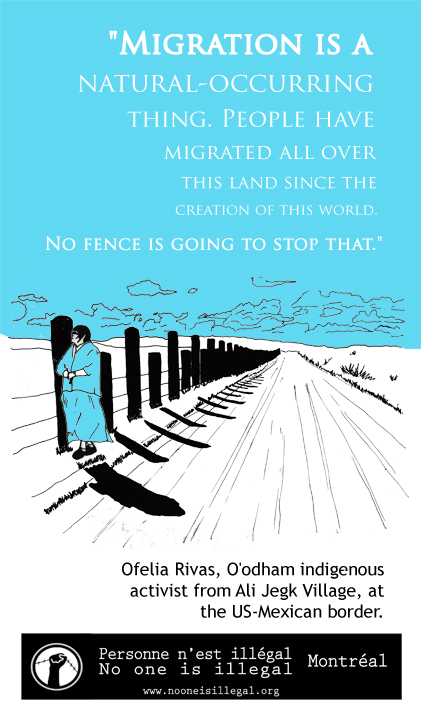 NO BORDERS, NO NATIONS!
A presentation and discussion by Nandita Sharma, with members of No One Is Illegal & Solidarity Across Borders
FRIDAY, NOVEMBER 23, 6pm-9pm
at Café L'Artère, 7000 Avenue du Parc
(south of Jean-Talon, near métro Parc, Montréal)
– – free
childcare available on request (please phone in advance)
– the Café is accessible to wheelchairs, but we regret that the bathrooms are not fully accessible (no large doors or bars)
– les présentations seront en anglais, avec une service de traduction chuchotée vers le français
Join us for an uncompromising discussion that will oppose the idea and practice of borders and nation-states, and offer a critical perspective on anti-trafficking discourses. The speakers will articulate resistance to global apartheid rooted in community organizing.

Featured speaker: NANDITA SHARMA
Nandita is an activist scholar whose research is shaped by the social movements she is active in, including No Borders movements and those struggling for the commons. She is the author of "Home Economics: Nationalism and the Making of 'Migrant Workers' in Canada", as well as the article "Anti-Trafficking Rhetoric in the Making of Global Apartheid." She is a professor at the University of Hawai'i at Manoa.
The panel will also include presentations by community organizers ROBYN MAYNARD & JAGGI SINGH. Robyn & Jaggi are co-hosts of No One Is Illegal Radio on CKUT Radio, and active with No One Is Illegal-Montreal, Solidarity Across Borders and the Justice for the Victims of Police Killings Coalition. Robyn is also active with Stella.
This event is co-presented by QPIRG Concordia, QPIRG McGill, No One Is Illegal-Montreal & Solidarity Across Borders.
INFO: