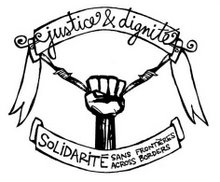 Principles for a Regularization Program In Canada
DRAFTED AT THE STATUS CONFERENCE, TORONTO, NOVEMBER 2004
Supported and endorsed by Solidarity Across Borders
Principle 1: We need a comprehensive, transparent, inclusive and ongoing regularization program that is both equitable and accessible to ALL persons living without legal immigration status in Canada (non-status). Any such program must not be contingent upon a person's participation in the labour force, nor should it exclude particular groups such as the poor, unwaged, unemployed and those who have ever accessed any government assistance. Likewise, it should not be limited to any group, such as members of a trade or profession, selected sectors or industries, those determined to be successfully integrated, and so on.
Principle 2: Any regularization program must provide immediate access to unrestricted and unconditional permanent resident or landed immigrant status in Canada.
Principle 3: Any regularization program must be non-discretionary, non-arbitrary and be applied consistently. As well as guaranteeing the right to due process for all applicants, it must also include a right to appeal for those whose applications are rejected.
Principle 4: Any regularization program must not be discriminatory on such basis as race, colour, national or ethnic origin, faith or religion, gender, mental or physical disability, sexual orientation, family status, etc.
Principle 5: Any regularization program must not be based on length of residency in Canada.
Principle 6: Medical inadmissibility is deeply discriminatory, violates fundamental human rights and is an affront to basic principles of justice and compassion. Any regularization program must not discriminate on the basis of an applicant's medical condition.
Principle 7: Any regularization program must respect the principle of family reunification in Canada, and respect the right of children to be with their primary caregiver(s) in Canada. It must allow regularized non-status individuals to sponsor their family members here and abroad on an immediate basis. The definition of family must be fully inclusive so as to recognize diverse cultural norms and practices, de facto family arrangements, same sex relationships, and the evolving realities that characterize people's lives. In all cases, proof of family relationships must not be determined on the basis of medical testing.
Principle 8: Non-status persons must not be penalized for having been forced to live "underground" in Canada. The regularization program must allow non-status individuals to submit their applications on an anonymous basis or through a third party, without fear of criminalization, detention, deportation or any other kind of enforcement.
Principle 9: While any regularization program is in process, all levels of government in Canada must guarantee non-status people full and equal access to health care, social assistance, education, childcare, employment, labour protection, housing, legal aid, domestic violence services etc., without fear of identification, criminalization, detention, deportation or any other kind of enforcement.
Principle 10: There should be no application or processing fees as they would constitute an unjustified barrier to any regularization program.
Principle 11: Anyone with less than full status in Canada – including people on temporary work permits – must be eligible for the regularization program.
Principle 12: Any regularization framework must not impose the "double punishment" currently faced by non-status migrants, where a criminal conviction results not just in punishment as set out in the Criminal Code, but also a second punishment by way of removal. The criminal justice system in Canada or abroad must not exclude any persons from any regularization process.