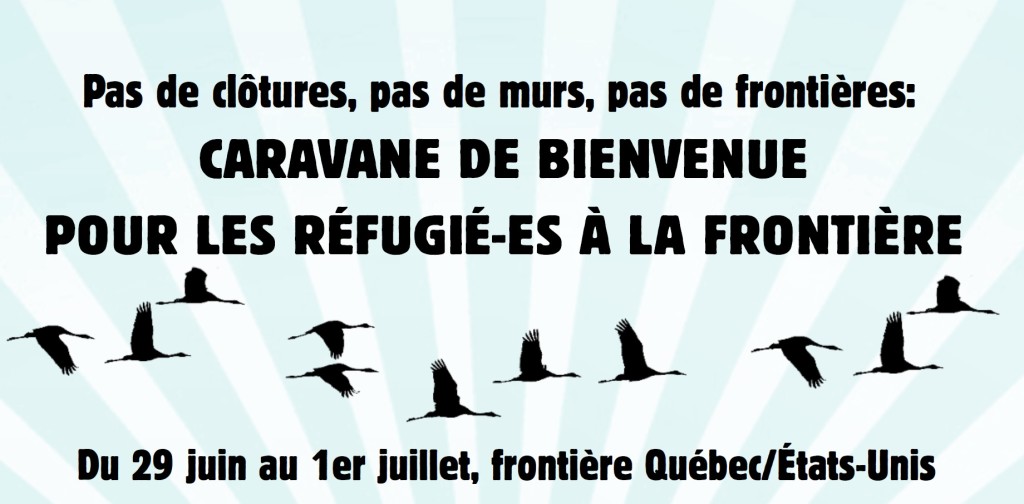 REGISTER BEFORE 25 JUNE: https://bit.ly/2IbsroL.
No fences, No walls, no borders
29 June to 1 July 2018, Quebec/US border
Solidarity Across Borders is organizing a Refugees Welcome Border Caravan which will travel along the Quebec-US border.
This festive, colourful, family-friendly caravan will stop at many small towns along the border to bring a message of solidarity with people crossing the border from the US and to oppose racist calls to close Quebec's borders. Because many people who have recently crossed will see their refugee claims refused, the aim is also to help build broad public support for an end to deportations and for mass regularization (status for all!).
In the context of calls by PQ members to erect a fence to keep people out, providing yet more room for the explicit racism of anti-immigrant extreme right groups like Storm Alliance, and the revelation that Trudeau's government has been seeking assistance from Trump to prevent migrants from fleeing to Canada, the caravan will assert a vision of society based on solidarity and mutual aid against exclusion and exploitation.
Get involved:
* If you live in the border region and want to help host the caravan, get in touch as soon as possible.
* If you live in Montreal and want to get involved in organizing, help out with tasks, contribute skills, get in touch at any time: the sooner, the better!
* If you want to come, fill in this form: https://goo.gl/forms/OgPxGM2ubfz3dwfP2
Open the Borders statement: www.solidarityacrossborders.org/en/call-to-action-open-the-borders
Contact: solidaritesansfrontieres@gmail.com