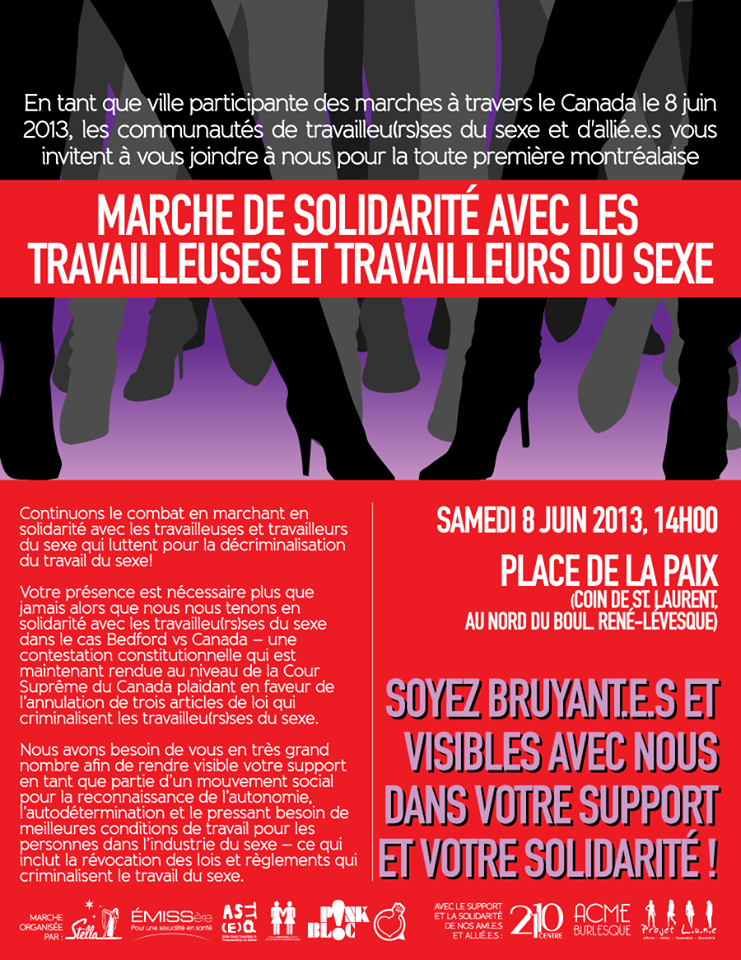 [This action is supported by Solidarity Across Borders …]
As part of actions in cities across Canada on June 8th, 2013, Montreal's sex worker and allied communities invite you to our first:
SEX WORKER SOLIDARITY ACTION: DANCE-A-THON
SATURDAY JUNE 8th, 2013, 2pm
Place de la paix, corner of St. Laurent, 
north of boul. Réné Lévesque (métro St-Laurent)
Brave the fight with us as we dance in solidarity with sex workers fighting for autonomy, self-determination and the need for better working conditions — which includes decriminalization, the removal of laws and policies that make sex work a crime.
We dance in solidarity with the sex workers in Bedford v. Canada — a constitutional challenge to be heard at the Supreme Court of Canada this June 2013, that argues to strike down three major criminal provisions that criminalize sex workers.
Be vocal and visible with us in your support!
THIS ACTION IS FAMILY FRIENDLY: BRING YOUR CHILDREN!
Organized by:
Stella, l'amie de Maimie
Projet Travailleuses du sexe, Emis-sère
Action santé travesti(e)s et transsexuel(le)s du Québec (ASTTeQ)
Alliance Féministes Solidaires pour les travailleuses et travailleurs du sexe (AFS)
Pink Bloc
PolitiQ
Supported by:
2110 Centre for Gender Advocacy
ACME Burlesque
Projet Lune
QPIRG Concordia
Solidarity Across Borders
No One Is Illegal-MontrealINFO: www.alliancefeministesolidaire.org/