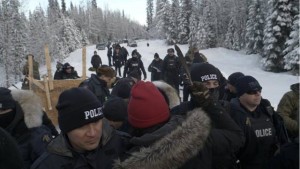 We at Solidarity Across Borders express our unequivocal solidarity with the people of the Wet'suwet'en nation in their continued resistance to colonial incursions into their territory, and join the call for urgent action in the face of the violent intervention being carried out by the RCMP.
In December, a British Columbia Supreme Court judge granted an injunction against the land defenders at the Unist'ot'en Camp, who have for years maintained a blockade to prevent construction of the Coastal GasLink (TransCanada) pipeline project, which would run through unceded Wet'suwet'en territory. A second blockade camp has been established by another Wet'suwet'en clan, the Gidimt'en, showing united opposition to the pipeline within their traditional governance structures and in defiance of a legal ruling that refuses to acknowledge their sovereignty and title. In the last few days the RCMP has imposed a media blackout as they stage a large-scale invasion of Wet'suwet'en territory to dismantle the blockades. Land defenders have made an urgent call for solidarity and support, in the face of what they have called "an act of war," and "a violation of human rights, a siege, and an extension of the genocide that Wet'suwet'en have survived since contact."
We believe the struggle against borders and for justice and dignity for migrants and refugees is inextricably linked to struggles against colonialism and for Indigenous sovereignty, within the borders of Canada and beyond them. The Canadian state's very existence is based on the ongoing theft of Indigenous land and attempted genocide against Indigenous peoples, while its economy depends upon the system of globalized capitalist imperialism that has created so much economic and environmental devastation around the world. The structures of power that dispossess and displace Indigenous peoples from their territories here are the same that construct the system of apartheid we see implemented globally, which are the same that push millions to migrate away from war and poverty around the world today.
Representatives of Coastal GasLink claim they have tried to negotiate a resolution to the conflict with the Wet'suwet'en. However, as with so many other examples of "negotiation" with Indigenous nations over access to land and resources, we know that extractivist capital cares only about protecting its investments, and the Canadian state will use whatever violent means they deem necessary to support those interests. Despite their rhetoric of reconciliation, the Trudeau government has shown time and again that it has no respect for Indigenous sovereignty, and will continue to violate its obligation to obtain free, prior and informed consent before undertaking development projects such as this pipeline.
The only solution is organized resistance on the ground, and for years the Wet'suwet'en land defenders have been holding the front line in this crucial struggle against colonial capitalism and ecological destruction. It is imperative that we support their work, as we struggle together for a world free from colonial borders and racist oppression.
Solidarity actions are being organized the country. Here in Tio'tia:ke, the Kanien'kehá:ka Mohawk territory known as Montreal, a demonstration was held Tuesday morning outside at the office of Justin Trudeau, and more actions will be announced soon.
For more information and updates on the situation at the camps, go here: https://unistoten.camp/