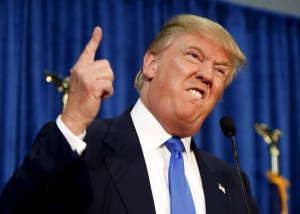 TRUMP, YOU'RE NOT WELCOME!
A Call to Resist & Disrupt Trump's State Visit to Canada
Date: Some time in early 2017, after January 20
Where: Likely Ottawa or nearby, details to be confirmed.
Please post and share this callout widely.
– web: https://trumpunwelcoming.org
– fb: www.facebook.com/events/359917574358074
– en français: www.solidarityacrossborders.org/fr/stoptrump
– en español: www.solidarityacrossborders.org/es/stoptrump
—–
This is a callout for anti-capitalist and anti-colonial resistance, rooted in a spirit of solidarity and mutual support, respecting a diversity of tactics.
Canada is usually the first foreign visit of a newly-elected US President and Prime Minister Justin Trudeau has invited US President-elect Donald Trump to visit Canada "at the earliest opportunity," probably in early 2017.
We won't wait for the details. In solidarity with the ongoing, massive anti-Trump protests in the USA, we're calling for resistance and disruption of Trump's visit to Canada, in Ottawa and elsewhere. Wherever and whenever Trump arrives in Canada, we're organizing now to resist and disrupt his racist, sexist, far-right, xenophobic and anti-immigrant politics.
We also reject the attempts to celebrate the 150th anniversary of Canadian colonialism by a government that continues to negotiate devastating corporate trade agreements, clears the way for pipelines, and refuses to regularize the status of the more than 500,000 undocumented people living in Canada.
Both Trump and Trudeau are products of a system that continues to devastate and attack human beings and the Earth. We are not putting any hope into politicians or political parties, but rather using and building the collective, autonomous power of our grassroots networks and movements. We resist deportations and Muslim bans, call for open borders and cross-border alliances, and support peoples' struggles, from the water defenders at Standing Rock to the Black Lives Matter movement.
We are calling for large-scale, decentralized actions to take place, no matter where you are in the country. We can create spaces for people to act and demonstrate with fewer relative risks, but we also support spaces where people can actively confront and disrupt the Trump-Trudeau meeting. We reject collaboration with the police and anyone else who seeks to divide us.
A "Donald Trump Unwelcoming Committee" has formed in Ottawa. If your organization agrees with this callout, and intends to mobilize in whatever way you can, contact blocktrump@gmail.com to endorse this callout, and also share this callout widely in your networks.
Endorsing organizations (updated November 20, 2016):
– Donald Trump Unwelcoming Committee (Ottawa)
– Solidarity Across Borders / Solidarité sans frontières / Solidaridad sin fronteras (Montréal)
Info:
e-mail: blocktrump@gmail.com
web: https://trumpunwelcoming.org (in progress)
fb event: www.facebook.com/events/359917574358074