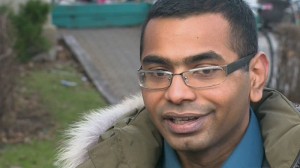 January 28, 2013, Montreal — Montreal resident Sami Sheikh, who has lived in Parc-Extension for 12 years and was facing a possible deportation to Pakistan, has learned that he will be able to stay in Canada.
Sami was informed in writing by Canadian immigration authorities late last week that his new request to stay in Canada on humanitarian grounds was accepted. He has been approved in principle for permanent residency.
"I want to thank everyone for their organizing. It's because of their support that I received this positive response," stated Sami during a meeting with supporters in Parc Extension this weekend.
Sami was highlighting the impressive mobilizing of community members and organizations who came together to publicly demand that Sami stay in the community he has known since arriving here as a child.
While celebrating Sami's ability to stay in Canada, Sami and his supporters are also drawing attention to the many other people living in Montreal, and elsewhere in Canada, who face deportation on a daily basis.
In the words of Stewart Istvanffy, Sami's lawyer: "We hope people will come out and fight for other cases where children and youth are forcibly removed to countries they don't know due to extremist Canadian deportation policies."
Sami Sheikh and his supporters will be celebrating the good news this Friday, February 1st at an informal "5 à 7" at Café L'Artère in Parc-Extension. The Café was the site of a press conference in support of Sami in December.
INFO (and media inquiries):
tel: 438-933-7654
e-mail: solidaritesansfrontieres@gmail.com
web: www.SamiChezNous.ca
twitter: @SolidariteMTL

– 30 –