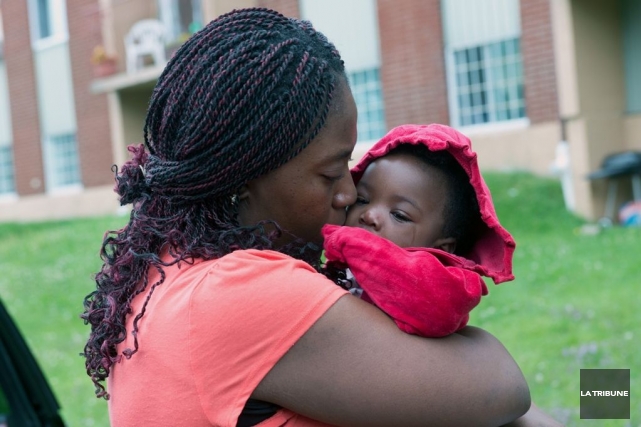 Dear supporters and allies of Sarah Maggali Namoutiri and the Pika Family —
This past Friday afternoon, Sarah Maggali Namoutiri was deported to the Republic of Congo. She was separated from her three children – Kezia Hope (7 year old daughter), Keren Elicha (3 year old son) and Khelen Mercy (5 month old daughter) – as well as her husband Pacôme Pika. It was heartbreaking for Sarah Maggali to be separated from her children in this way. The media compilation linked below provides some background, including the words of Sarah Maggali herself.
Several members of Solidarity Across Borders were present at the airport on Friday in support of the family, and remain in direct contact with them. The Pika Family is committed to re-uniting as soon as possible in Quebec, by ensuring Sarah Maggali's return. According to the family's lawyer, the earliest that Sarah Maggali can return to Canada is after one year, and she will need authorization from the Immigration Minister to do so.
Solidarity Across Borders is committed to supporting a campaign to return Sarah Maggali back to Quebec and back with her family as soon as possible.
This week, there will be meetings in both Sherbrooke and Montreal to plan next steps, in direct contact with Sarah Maggali and her family. If you can be involved directly with the support campaign, please get in touch via e-mail at solidaritesansfrontieres@gmail.com.
Your support in the coming weeks and months is very much needed. We will need support in multifold ways: i) fundraising; ii) personal support with the Pika Family in Sherbrooke; iii) support for Sarah Maggali in the Republic of Congo; iv) ongoing pressure on the Quebec Minister of Immigration to fast-track a Certificat de sélection du Québec (CSQ); v) ongoing pressure on the federal government to allow Sarah Maggali's return to Quebec as soon as possible.
A public callout will be forthcoming soon.
If you can support this support campaign in any way (including translation, graphic/web design, personal support, fundraising and more) please get in touch via e-mail solidaritesansfrontieres@gmail.com
Media Compilation:
– (Vidéo) Radio-Canada: La demande de sursis d'une mère de famille est rejetée (3 juillet 2014)
http://ici.radio-canada.ca/regions/estrie/2014/07/03/004-demande-sursis-rejetee-sherbrooke-famille-pika-namoutiri.shtml
– (Vidéo) TVA: Ordre d'expulsion Une famille lance un cri du coeur (3 juillet 2014)
http://tvanouvelles.ca/lcn/infos/regional/sherbrooke/archives/2014/07/20140703-205106.html
– (Vidéo) Solidarité sans frontières:  Arrêtez l'expulsion de Sarah Maggali Namoutiri (27 juin 2014)
www.youtube.com/watch?v=SkGJaFx0xek
– La Tribune: Un «au revoir» déchirant pour la famille de Sarah Maggali Namoutiri (5 juillet 2014)
www.lapresse.ca/la-tribune/sherbrooke/201407/05/01-4781353-un-au-revoir-dechirant-pour-la-famille-de-sarah-maggali-namoutiri.php
– La Tribune: L'un des derniers espoirs de Sarah Maggali Namoutiri s'est éteint (3 juillet 2014)
www.lapresse.ca/la-tribune/sherbrooke/201407/03/01-4780849-lun-des-derniers-espoirs-de-sarah-maggali-namoutiri-sest-eteint.php
– La Tribune:  «Peut-être mes derniers moments avec deux de mes enfants…» (3 juillet 2014)
www.lapresse.ca/la-tribune/sherbrooke/201407/03/01-4780634-peut-etre-mes-derniers-moments-avec-deux-de-mes-enfants.php
– 107,7 FM Estrie: La demande de sursis de la famille Pika de Sherbrooke est rejetée (3 juillet, 2014)
www.fm1077.ca/regional/nouvelles/la-demande-de-sursis-de-la-famille-pika-de-sherbro-328995.html
– EstriePlus.com: Expulsion d'une famille sherbrookoise vers la République du Congo (2 juillet 2014)
www.estrieplus.com/contenu-0404040431333535-32244.html
– CBC Radio: Sarah-Maggali Namoutiri to be deported (July 4, 2014)
www.cbc.ca/player/Radio/Local+Shows/Quebec/ID/2470838993/


+++++++++
Solidarité sans frontières: www.solidaritesansfrontieres.org
Solidarity Across Borders: www.solidarityacrossborders.org
Solidaridad sin fronteras: www.solidarityacrossborders.org/es
e-mail: solidaritesansfrontieres@gmail.com
facebook: www.facebook.com/CiteSansFrontieres
twitter: @SolidariteMTL
tél.: 438-933-7654
++++++++++