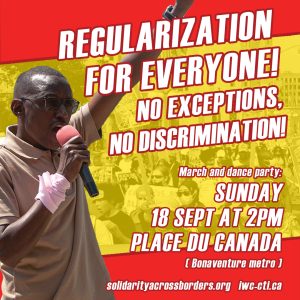 !!! URGENT: Right now, the Canadian government is developing a regularization program! We need mass pressure to ensure no one is excluded NOW!!!
March and Dance Party
Sunday, September 18th at 2pm
Place du Canada (corner of René Lévesque and Peel; Bonaventure Metro)
Bring your kids! This is a family-friendly action. We aim to make this action safe and accessible to as many people as possible. Please contact us with your questions and accessibility needs at solidaritesansfrontieres@gmail.com.
Please help us get thousands of people out! Invite your friends and organizations, help flyer and poster, spread the word on social media. The material is here.
The federal government is in the process of planning a regularization program which will grant permanent resident status to undocumented migrants. The question is how many of the 500,000+ undocumented people will be included. This is an historic opportunity and we must act now to obtain a comprehensive regularization programme with no exceptions or discrimination, to ensure that no one is left behind.
In this election period in Quebec, we call on all workers, all migrants, all in Quebec who believe in dignity, equality and justice to support a comprehensive regularization programme, which includes all undocumented migrants. Racist and xenophobic populism should have no place in Quebec and must not be allowed to prevent Quebec from supporting the regularization of ALL undocumented migrants. Together we have an historic opportunity to oppose systemic racism and uphold human dignity and equality. Let's seize it.
There are around 500,000 people living in Canada who are undocumented; that is, without a valid permit to be in Canada. This number is increasing because the 1.2 million people who are here on work, study or refugee claimant permits for the most part have no opportunity to remain permanently in Canada. Consequently, because of the violent border system developed by colonial powers in North America, many of them become undocumented.
Undocumented people, migrant workers and refugees are exploited in substandard working conditions, because regressive immigration and labour laws restrict their agency and leave them open to abuse. Lack of permanent resident status makes it difficult, and often impossible, for migrants to speak up for their rights or access services, including those they may be eligible for, because of a well-founded fear of reprisals, termination, eviction and deportation. Migrants experience insecure housing, abuse at work, poverty and fear. The uncertainty about the future, constant stress of making ends meet, and the risk of detention and deportation negatively impacts their health.
Canada, like most of North America and Europe, has not seen a real inclusive regularization program for undocumented people in decades.
More information:
Regularization in Canada
Video: Undocumented Migrants Speak Out
Petition
Article: Nous, les exclus, sont tout aussi essentiels
This action is part of the Cross-Canada Day of Action Rights, Regularization, Status for All. Endorsed by: Action Canada for Sexual Health and Rights, Council of Canadians, Climate Action Network – CAN-RAC, Fédération des femmes du Québec, Front d'action populaire en réaménagement urbain (FRAPRU), Indigenous Climate Action, La Ligue des droits et libertés, Leadnow, Médecins du monde, Oxfam Canada, UNIFOR, YWCA Canada. Add your organization's name. See full list.
Solidarity Across Borders
solidarityacrossborders.org
Immigrant Workers Centre
iwc-cti.ca