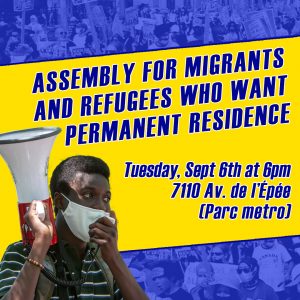 [[Punjabi & Tagalog versions below]]
Tuesday, September 6th at 6pm
7110, Ave. de l'Épée (Parc Métro)
Are you a migrant or refugee? Do you or members of your community have precarious immigration status? Are you undocumented?
The federal government is planning a regularization program for undocumented migrants; that is, a programme to give migrants without valid permits permanent resident status. This is happening as a result of migrants fighting together for status for all.
We must now work hard to create popular pressure and ensure that all 500,000 undocumented migrants get permanent residence through this programme and that no one is excluded.
We think every person is equal in dignity and worth; every person deserves to be included, with no exception or discrimination. And that we need to work together to get that.
If you agree, come out on Tuesday, September 6th at 6pm to:
Ask your questions and learn more about what is going on
Find out what we are doing to make sure everyone is included and how you can join in
Share your ideas for action
Get information and materials to contribute to the mobilization
Childcare available on site
A light, vegetarian meal will be served (free)
Translation to spanish, punjabi, creole
Metro tickets
——————————————————–
Punjabi version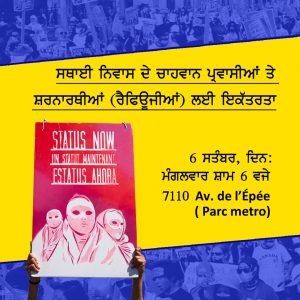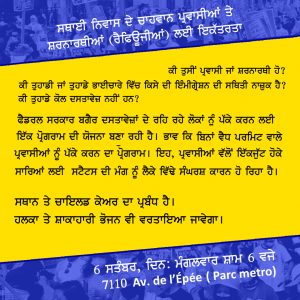 Please see the text in Punjabi here as well.
——————————————————–
Tagalog version