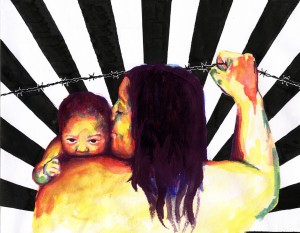 ** Make your donations here! http://igg.me/at/nonaladoublepeine **
Video on double punishment: http://youtu.be/Mt-0PdBIPi8
Dear friends and allies,
This week Solidarity Across Borders will be launching a fundraising campaign for a family that is facing the injustices of double punishment. After living in Montreal for more than twenty years, with six kids and two sisters here, the mother of this family was stripped of her permanent residency because she had served time in prison for minor charges. Like others facing double punishment she is being targeted through two unjust systems, the criminal system and the immigration system. (Read more about her story below.)
The situation has been one of immense stress and isolation, as this woman faces not only the prospect of separation from her entire family, but the classist, racist and gendered stigma of criminality. On top of all this the legal battle to stop this woman's deportation has been complicated and exceedingly expensive.
If you have the means please consider lending financial support, to help raise the upwards of $5000 to cover legal fees.
You can donate through this link:
While this fundraiser is meant to help with the immediate needs of the family, there is a larger need to speak out and resist the political issue of double punishment and criminalization. Join us in denouncing double punishment, and the systems of deportation, detention and imprisonment that tear communities apart.
More information on resistance to  double punishment: http://www.solidarityacrossborders.org/en/double-punishment
NO TO DOUBLE PUNISHMENT! STATUS FOR ALL!
Story of the Family
J came to Montreal twenty years ago and obtained permanent residency. Her entire family, including two sisters and six children, are all here in Montreal.
Due to the injustices of double punishment, J is now facing deportation to the country she left twenty years ago. Deportation would separate the family and send J and her younger children to a country where they have absolutely no support.
Double punishment is the policy by which non-citizens are stripped of their residency status after having already served time in prison for a crime that is deemed to be "serious". In the case of J, this crime was shoplifting. J took part in shoplifting under threat of violence from her ex-partner and to secure his financial support for her kids whom she was raising alone.
The story of J highlights the ways in which the prison system and the immigration system work together, in this case hand in hand with patriarchy and male violence, to destroy the lives of migrants, tearing families apart, and criminalizing people of colour and poor people.
Members of Solidarity Across Borders are supporting J and her family in fighting her imminent deportation.