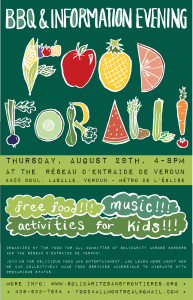 Thursday, August 29th, 2013
4pm to 8pm
at the Réseau d'Entraide de Verdun (4400 blvd. Lasalle)
métro de l'Eglise
You're invited to an information evening organized the Food for All committee of Solidarity Across Borders and the Réseau d'entraide de Verdun.
** FREE food!
** Music!
** Childcare on site. Bring your family!
Join us for delicious food and entertainment, and learn more about how we can collectively make food services accessible to migrants with precarious status.
The Food for All committee of Solidarity Across Borders works with a variety of food banks and community organizations to fight for accessibility to food services for all – especially for those with precarious immigration status. We recognize the difficulties and daily indignities that are thrust upon people without status, and are committed to transforming services in general, and food banks in particular, into safe spaces where anyone can access services without fear.
We are situated within the Solidarity City campaign, which strives to build mutual aid and solidarity while dismantling barriers around access to services for non-status migrants and all those who face poverty and precarity in Montreal.
More Info:
food4allmontreal@gmail.com
www.solidarityacrossborders.org
438-933-7654