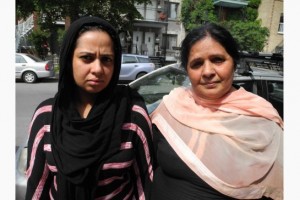 Press Release
Awan Grandmother facing deportation tomorrow despite physicians' warnings about her heart condition
20 August 2013, Montreal – Mrs. Khurshid Begum Awan was informed today that she will be deported tomorrow evening at 6pm. Canadian Border Service Agency (CBSA) agent Normand Lespérance issued the new ultimatum to the grandmother despite warnings from medical experts that her heart condition makes it unsafe for her to fly.
Mrs Awan was in the news earlier this month when CBSA agents sparked public outcry by entering a hospital emergency room in an attempt to arrest her on the eve of a previous deportation date. She was being treated after collapsing in the CBSA offices and being rushed to hospital. CBSA agents only agreed to leave when top hospital staff insisted that she was not fit to fly.
Mrs. Awan was originally ordered deported to Pakistan after her refugee claim was rejected in December 2012. Her request at the Federal Court for an administrative stay of removal was then also rejected in June, despite letters from three general physicians, one emergency physician and one cardiologist clearly stating that she should not travel to Pakistan in her current health condition. It was not until she suffered a heart attack in the Montreal CBSA office on July 4th that the removal procedures against her were finally delayed.
CBSA has now given her a new removal date for tomorrow, August 21 at 6pm, despite another letter from her doctor stating that, according to Canada's own guidelines, she should not fly before having received adequate treatment.
Mrs. Awan has not been able to receive follow up treatment for her heart attack due to lack of medical coverage. Citizenship and Immigration Canada (CIC) has abnormally refused to renew her Interim Federal Health Program (IFHP) document unless she presents herself in person to their offices.
According to Rick Goldman of the Comité d'aide aux réfugiés (CAR), "this is a very unusual and arbitrary treatment. People are not normally obliged to pick up their medical coverage papers in person, and it makes even less sense for someone in such a precarious state of health."
"From agents showing up at the hospital to arrest her while she was still recovering from a heart attack, to the government withholding her health coverage for more than a month, this woman has suffered tremendous abuse at the hands of the Canadian government," says Cynthia Beaudry from Solidarity Across Borders.
Mrs. Awan is also at severe risk in Pakistan, where her husband has been in hiding since he was deported from Canada in April. The Federal Court has refused to accept evidence from police in Pakistan that he has suffered an armed attack since his deportation.
"The threat of more targeted sectarian violence at the hands of the Sipah E. Sahaba, an anti-Shia group now banned in Pakistan, is extremely worrisome. We not only fear that she could die if she's put on a plane, but also that she could die if she's sent back into the hands of her aggressors," says her lawyer Stewart Istvanffy.
Solidarity Across Borders with Mrs. Awan's Canadian daughter Tahira Malik and her 15 year old grandson Ali Own, as well as more than ten organizations including Amnistie Internationale – Canada francophone are demanding that Minister of Immigration Chris Alexander stop her deportation.
"We call on Minister Alexander to fast track her request for status on Humanitarian and Compassionate grounds so that she can live with her family in peace and safety." said Beaudry.
-30-
July 30, 2013
Côte-des-Neiges resident Mrs. Khurshid Begum Awan was recently refused at the Federal Court and now has no legal recourse protecting her from deportation.
Last week Mrs. Awan was nearly arrested by CBSA agents at the Montreal General hospital two weeks after suffering a heart attack. Mrs. Awan was spared only temporarily from removal due to a large number of doctors who have attested that her health would be unduly compromised. However, deportation remains imminent and her health continues to suffer.
The Awan family arrived in 2011 from Lahore, where they were targeted by extremist and criminal gangs related to the Sipah E Sahaba, an anti-Shia group banned in Pakistan.  Mrs. Awan's daughter, Tahira, came and successfully obtained refugee status in 2000, when at the age of 17, she was forced to leave her parents and 1 year old son in order to escape a violent marriage.  Her husband, linked to Sipah E Sahaba members, continued to terrorize and beat up her parents for money.
* Media Articles
– (Toronto Star) Border officials slammed for arresting woman in hospital emergency:
—–
* How you can help
You can support Mrs. Awan by doing the following:
i)   WRITE a letter to both Chris Alexander (Minister of Citizenship and Immigration) as well as Steven Blaney (Minister of Public Safety, responsible for the Canada Border Services Agency) o grant Mme. Awan permanent residency and to stop all removal procedures against her. Please cc your correspondence to Solidarity Across Borders:
– Chris Alexander: Minister@cic.gc.ca
– Steven Blaney: steven.blaney@parl.gc.ca or visit  www.publicsafety.gc.ca/abt/min-eng.aspx
– Thomas Mulcair: thomas.mulcair.a3@parl.gc.ca (MP for Mme. Khurshid Begum Awan)
– Solidarity Across Borders: solidaritesansfrontieres@gmail.com
If possible, also PHONE Immigration Minister Chris Alexander in Ottawa at: 613-954-1064
*** Tuesday, July 30, 6pm: Letter Writing Night at Café l'Artère (7000 ave. du Parc) ***
facebook:  https://www.facebook.com/events/589301304442518/
* Template letter:
Honourable Chris Alexander
Minister of Citizenship and Immigration Canada
House of Commons
Parliament Buildings
Ottawa, ON K1A 0A6
CC : Thomas Mulcair
Member of Parliament for Outremont
3333 Queen Mary, suite 310
H3V 1A2
Monday, July 29th, 2013
Re : Mr. Muhammad Khalil Awan and Mrs. Khurshid Begum Awan
Dear Minister Alexander,
My name is ___(name)___, and I am a member of ___(add name of organization, or affiliation, or community group if appropriate, with description)___.
I am writing in support of Mr. Muhammad Khalil Awan and Mrs. Khurshid Begum Awan, a family living in Montreal with their daughter Tahira Malik and their grandson Ali. They arrived in 2011 from Lahore, where they were targetted by extremist and criminal gangs related to the Sipah E Sahaba, an anti-Shia group banned in Pakistan.
I am gravely concerned by the fact that Mr. Awan was deported in April 2013, where he lives in hiding outside of Lahore, and already has been targeted by extremist violence.  Both Mr. and Mrs.  Awan are quite elderly with significant health problems, which were not taken into due consideration. Just last week, Mrs. Awan was again hospitalized following a heart attack. Despite many affadavits from doctors advising against her removal, CBSA showed up at the emergency room to detain and then deport Mrs. Awan. Due to public pressure and the advice of her doctor she was granted a six week stay on grounds that she cannot fly, however deportation remains imminent and her health continues to suffer.
It is also disturbing that during their refugee hearing, Mrs. Awan was not allowed to testify because of a panic attack she had a month earlier, despite her insistence and wishes to do so.  The fear and violence lived by several minority communities in Pakistan take on a particular dimension for women and every refugee claimant has the right to be heard.
There is a very real danger for Shias living in Pakistan right now, and Canada should and must act to protect these people and families.
I ask, Minister Alexander, that you intervene to grant Mrs. Awan permanent residency and to stop the all removal procedures against her.  I also ask that you allow Mr. Awan to rejoin his wife, daughter and grandson in safety in Montreal.
Sincerely,
____ (your name or signature)____.