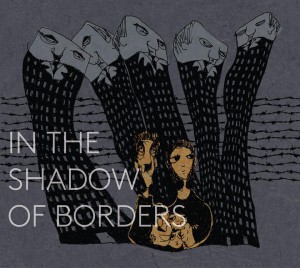 In the Shadow of Borders: documentary film screening followed by discussion
Thursday, December 10th, 2015
7pm at De Sève Cinema
1400 de Maisonneuve West (Concordia Library Building); Guy-Concordia metro

This event is organized by In the Shadow of Borders with support from the Community-University Research Exchange (CURE), QPIRG Concordia and Solidarity Across Borders.
– free
– wheelchair accessible
– there are accessible washrooms next to the cinema, though they are not gender neutral
– childcare available; please reserve in advance
– get in touch about accessibility needs

– please get in touch about any accessibility needs
Film is in English, French and Spanish with English subtitles
IN THE SHADOW OF BORDERS: trailer https://www.youtube.com/watch?v=9ReOyEYNCgc
Please join us Thursday, December 10, to watch In the Shadow of Borders, a 37 minute documentary film produced in 2015. Is Canada the welcoming country for migrants it likes to call itself? In the Shadow of Borders challenges this myth and, through personal stories of detention, denial of essential services, labour exploitation and deportation, exposes how precarious are the lives of those without status.
By connecting histories—of indigenous sovereignty, of Canada's role in displacement, of its discriminatory policies—this documentary portrays grassroots resistance to xenophobic governmental practices and the struggle of migrants for freedom of movement.
We also invite you to stay after the screening to talk about the film and ongoing migrant struggles. People who participated in making the film, along with some of those interviewed and active in organizing around these issues in Montreal will be present for the discussion. The film is in English, French and Spanish and this projection will be of the English subtitled version, however DVDs of the Spanish and French subtitled versions will be available at the event.
This documentary is meant to serve as a popular education film, so if you cannot make the event or would like to share the film with others, we encourage you to organize your own screening! It could be shown in your home, workplace, school, community group, local park, etc. We can also help to organize screenings with someone to answer questions, facilitate a discussion and provide materials for workshops. Please be in touch at info@shadowofborders.com and we can get you what you need to set up your event. Also keep following our website and Facebook page to receive news of other screenings and find full high quality links to watch share the documentary online.
Website: http://shadowofborders.com
Facebook: https://www.facebook.com/MigrantJusticeDocumentary
Email: info@shadowofborders.com