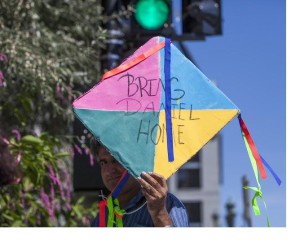 It has been one year since "Daniel", a Montreal teenager, was deported alone to Mexico City. Even as community-members and friends gathered at the Dorval airport to denounce the violent collusion between Québec's status-based education system, the Montreal police (SPVM), and the Canadian Border Services Agency (see Background below), Aeromexico Flight AM681 took off with the 17-year old on board.
Since then, Daniel has fended for himself in one of the world's most dangerous cities, separated from his family, who live in Montreal. His great precarity is exacerbated by a hearing disability.
Despite the family's courageous decision to speak out publicly about the situation, the Canadian state has not yet decided the family's immigration application, filed more than a year ago. Nor has the Quebec state stepped up, despite Quebec's clear responsibility in the affair: if Quebec had a school system safe for all children, regardless of immigration status, Daniel would have spent last year as a high school student instead of a child labourer in Mexico.
Most recently, a rally at Montreal's City Hall urged the current Mayor of Montreal, Denis Coderre, to intervene. As federal Minister of Immigration from 2002 to 2004, Mr. Coderre oversaw the deportation of more than 20,000 people from Canada.
Photos of rally in front of City Hall, 4 September 2015:
www.facebook.com/media/set/?set=a.912101228844538.1073741838.388641067857226&type=3&uploaded=14
Mr. Coderre has not responded. But, on the same day as the rally, Mr. Coderre made a public statement welcoming Syrian refugees to Montreal. Daniel and his family are refugees from Mexico. Like hundreds of thousands of others in Canada, they saw their application refused by Canada's arbitrary refugee selection system, an elaborate mechanism to preserve privileged access to global resources. Like hundreds of thousands of others, his family chose to remain in Canada without papers rather than return to the even more precarious and difficult situation they had left. "Refugees welcome" means little if it does not include the members of our community who are living in precarity and super-exploitation because of their immigration status.
Background
June 2008: Fearing for the safety of her family following threats, Daniel's mother leaves Mexico for Canada with her children. She believes that her children – and especially her partially deaf son, who has already suffered from bullying because of his disability – will thus be able to grow up in safety and have a better life. At the age of 10, Daniel starts school in Montreal.
February 2010: The family is refused refugee status. The mother makes the difficult decision to remain without status, rather than compromise the safety and future of her children by returning to Mexico. Daniel's family thus joins the ranks of the hundreds of thousands of undocumented people living in Canada.
15 January 2014: Daniel, who has now been living in Quebec for almost six years, is called in by the administration of his high school. He is told that if his mother doesn't pay registration fees, Immigration Canada will be called and the family deported. Daniel changes schools.
8 October 2014: Daniel returns to his old high school on his 17th birthday to visit his friends. His friends gather on the sidewalk and then, as it begins to rain, enter the school. Daniel is immediately targetted by the security. The SPVM are called and question Daniel about his immigration status. Daniel is arrested and handcuffed in front of all his friends. The SPVM hand him over to the CBSA and for one week he is detained at the Laval immigration detention centre, held in isolation because he is a minor.
10 October 2014: An application for permanent residence on humanitarian grounds is filed; if accepted, this will regularize the immigration status of the family.
16 October 2014: Daniel is deported to Mexico, alone.