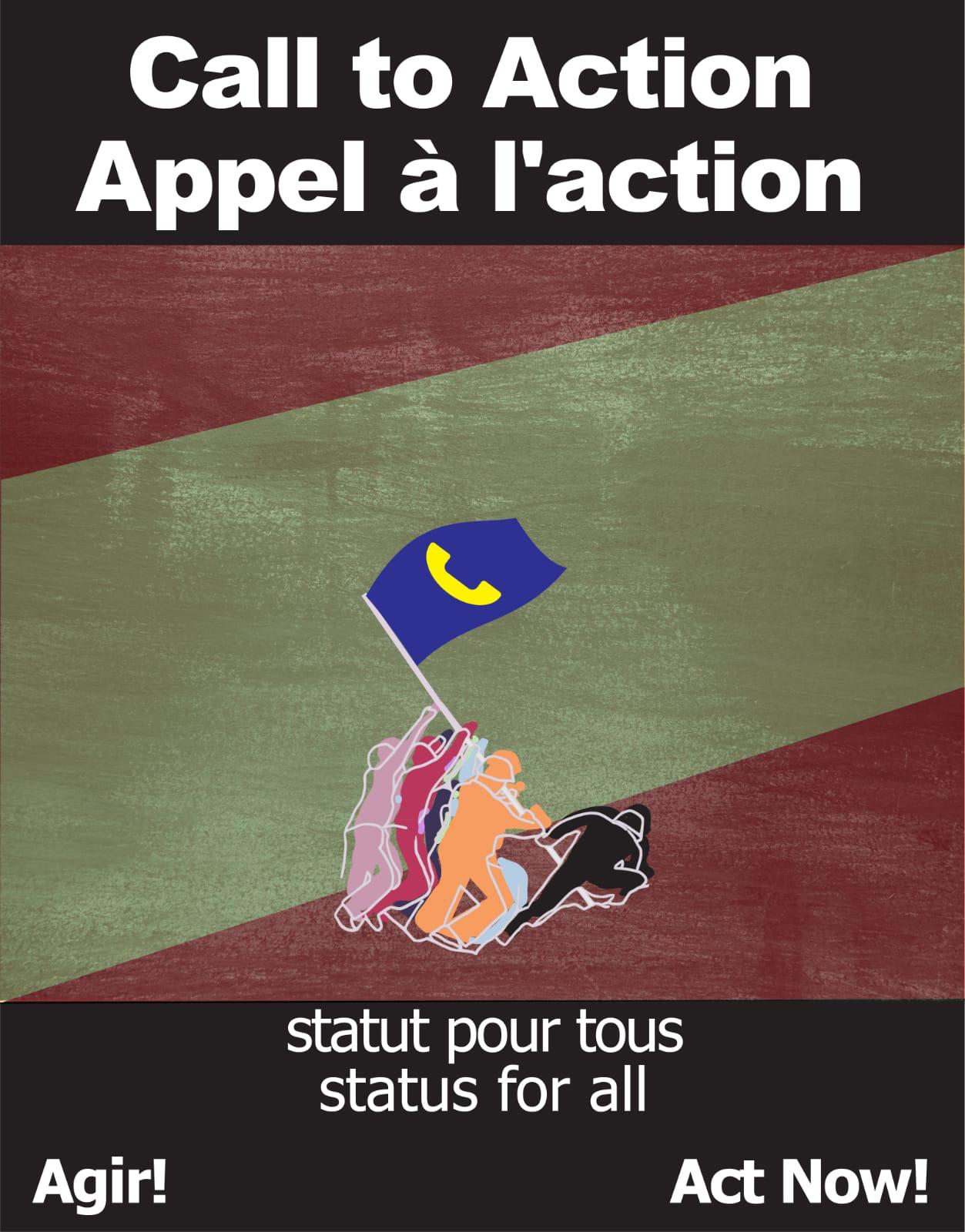 #StatusForAll #FreeThemAll
After several weeks of confinement and despite a call for help from undocumented people and their allied organizations, the Canadian government has continued to ignore the concerning situation of hundreds of thousands of non-status people. Across Canada, thousands of men, women and families have found themselves at the mercy of COVID-19 simply because they don't have healthcare cards. And if that wasn't enough, people without status, even though they are one of the most vulnerable communities in our society, do not currently benefit from any of the Trudeau government's emergency measures.
Those of us without status know that before the pandemic began, we occupied essential positions in agriculture, catering, and housekeeping. Since the start of COVID-19, we continue to work in high-risk occupations such as cleaning in CHSLDs and meat processing plants where we are forced to take public transportation to work. We are neither unionized nor do we have any health coverage. For these reasons, we are asking to share the same rights as everyone else: to be able to look after ourselves when we get sick; work safely without endangering our lives; to be recognized for the work we do. We live here, pay taxes and contribute to the wealth of Canada.
For these reasons we are asking the federal government to:
– regularize everyone without status in Canada without any exception
– release everyone without status who is currently detained in prisons and migrant detention centers
– include non-status community members in all federal and provincial measures.
In our fight for a STATUS FOR ALL, we have launched several actions so that the federal government does what it should have done since the beginning of the pandemic: regularize without exception everyone living without status in Canada.
WHAT YOU CAN DO
SOCIAL MEDIA
Use the hashtag #StatusForAll # FreeThemAll to show your support on social media! Even better, tag Marco Mendicino, Justin Trudeau, Patty Hajdu and other government officials.
Share our open letter: https://www.solidarityacrossborders.org/en/appeldessanspapiers
CALLS & EMAILS
Call or email:
1) Justin Trudeau
https://pm.gc.ca/en/connect/contact
justin.trudeau@parl.gc.ca
Hill Office: 1 613-995-0253
Constituency office: 1 514-277-6020
2) Minister of Health Patty Hajdu
Patty.Hajdu@parl.gc.ca
Hill Office: 1 613-996-4792
Constituency office: 1 807-766-2090
3) Minister of Immigration, Refugees and Citizenship Marco Mendicino
Marco.Mendicino@parl.gc.ca
Hill Office: 1 613-992-6361
Constituency office: 1 416-781-5583
4) Federal Minister of Public Safety Bill Blair
Bill.Blair@parl.gc.ca
Telephone: 613-995-0284
5) Your federal MP, find their contact here: https://www.ourcommons.ca/Members/en
6) Premier François Legault
418 643-5321
514 873-3411
7) Minister of Immigration, Francization and Integration Simon Jolin-Barrette
Leader.SJB@assnat.qc.ca
418 643-3804
Example message:
I am disturbed to see that at this moment the Canadian government continues to ignore and further marginalize our non-status community members. People without status are our friends, our neighbors, and our colleagues. Your response is seriously insufficient in the face of this crisis. A regularization program is the only solution.