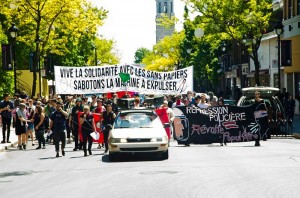 Two weeks of events, activities and actions demanding STATUS FOR ALL!
June 1-15, 2014, Montreal.
This year, the STATUS FOR ALL coalition is coordinating two weeks of activities in opposition to deportations, detentions and double punishment, and in support of a Solidarity City and the regularization of all non-status migrants.In addition to the annual STATUS FOR ALL demonstration, march and picnic on June 7 (more info here:
www.statusforall.org/en/june7
), ANTI-DEPORTATIONS DAYS will include diverse events, activities and actions in the first two weeks of June.ANTI-DEPORTATION DAYS is organized and coordinated by the STATUS FOR ALL Coalition (comprised of Mexicians United for Regularization, Solidarity Across Borders and No One Is Illegal-Montreal, with the support of Dignidad Migrante and the Immigrant Workers Center).For a full schedule, see below or visit:
www.statusforall.org/en/journeescontrelesdeportations/
INFO:
web:
www.StatusForAll.org
tel:
438-933-7654
e-mail:
unstatutpourtoutes@gmail.com
ANTI-DEPORTATION DAYS
SCHEDULE OF EVENTS:
a) Sunday, JUNE 1st, 11:30am: (Workshop) Migration and the Mining Industry
b) Sunday, JUNE 1st, 12pm-4pm: Banner-making at Parc Vinet
c) Tuesday, JUNE 3th, 10am: Status For All Coalition Press Conference
d) Wednesday, JUNE 4th, 6:30pm: Uprising and Uprooted: Refugees in the Syrian Struggle in Photo and Image
e) Thursday, JUNE 5th, 5pm: Flashmob Against Borders / Flashmob contre les frontières
f) Thursday, JUNE 5th, 5pm: No One is Illegal Radio
g) Thursday, JUNE 5th, 7pm: (Workshop) Travailleurs et travailleuses migrants et assurance-chômage: égalité des droits et discrimination
h) Friday, JUNE 6th, Break it Down, Tear it Up! An Anti-Deportation Days Fundraiser by No One Is Illegal-Montreal
i) Saturday, JUNE 7th, 2pm: Status for All Demonstration & Picnic
j) Monday, JUNE 9th, 6:30pm: (Workshop) What does it mean to demand status for all on stolen Indigenous land?
k) **POSTPONED TO 19 JUNE** (Wednesday, JUNE 11th, 12:30pm Education For All! Street Theatre & Demonstration)
l) Thursday, JUNE 12th, 1-3:30pm: (Workshop) Shelters Not Borders
m) Friday, JUNE 13th, 6pm: Immigrant Workers' Centre Artists' Block event
n) Saturday, JUNE 14th, 5pm: Block Party & Documentary Film Launch
o) Sunday, JUNE 15th, 2-5pm: BBQ & Picnic Against Borders in Support of the Awan Family
More details below or: www.statusforall.org/en/journeescontrelesdeportations/

***
a) MIGRATION & THE MINING INDUSTRY
SUNDAY, JUNE 1, 10am
CÉDA, 2515 Delisle, metro Lionel Groulx
Part of the Permanent Peoples' Tribunal on Canadian Mining in Latin America
Organizing group: the Temporary Foreign Workers' Association
Contact: iwc_cti@yahoo.com
Join us a discussion on mining and migration with members of the Association of Guatemalan Workers United for our Rights (AGUND), an association of blacklisted migrant workers, and organizers from communities that have been resisting Canadian mining in Mesoamerica.
***
b) ÉLABORATION DE BANDEROLES ET CONVIVENCE FAMILIALE
DIMANCHE, 1 JUIN, 12h00
Parc Vinet, 2515 Delisle (CÉDA), métro Lionel Groulx
À Montréal et par tout au Canada, il y a des milliers de familles qui vivent dans l'invisibilité en raison de la vulnérabilité de son Statut. Cependant, de nombreuses organisations et individus se sont organisés pour faire valoir les droits  des immigrantes en tant qu'être humains parce que nous avons tous le droit à une vie meilleure sous la protection et la sécurité de nos familles. Afin de visualiser, de sensibiliser et de mobiliser la population à son tour passer une journée à la fois de la convivence familiale avec nos voisins et amis, le MUR invite au public en général à promouvoir les 2 semaines d'activités organisées par la Coalition Un Statut Pour Tous et toutes, également à mobiliser pour la manifestation du 7 juin.
Nous vous encourageons d'y venir avec votre famille, amis, voisins et passer une journée de convivence avec nous !! Vous pouvez apporter des collations et boissons alimentaires à partager avec tout le monde!!
Solidairement,
Mexicain.e.s Uni.e.s Pour la Régularisation
Plus d'information : 514-342-2111 ou 514-619-3648
www.mexregularizacion.org
***
c) STATUS FOR ALL COALITION PRESS CONFERENCE
TUESDAY, JUNE 3rd, 10am
at the Complexe Guy Favreau
A press point with speakers from the STATUS FOR ALL Coalition (Solidarity Across Borders, Mexicans United for Regularization, No One is Illegal, the Immigrant Workers' Centre, and Dignidad Migrante) and the release of the STATUS FOR ALL declaration for Anti-Deportation Days.
***
d) UPRISING AND UPROOTED: REFUGEES IN THE SYRIAN STRUGGLE IN PHOTO AND IMAGE
TADAMON EXHIBITION VERNISSAGE, WEDNESDAY JUNE 4th, 6:30pm
Kahwa Café 263 Avenue du Mont-Royal Est (Metro Mont-Royal)
The popular uprising in Syria for liberation and dignity that broke out in March 2011, has, since the beginning, been met with a brutal regime response that has known no limits. The consequences of the Syrian regime's response have been devastating: destruction of homes, urban neighbourhoods and infrastructure; deepening social divisions that have taken the form of sometimes violent, armed confrontation; deaths of civilians reaching over 150,000 persons; widening fear and distrust; countless injured; the uprooting of millions. In the face and in the aftermath of regime bombardment, siege, atrocity and aggression millions have taken flight and sought refuge within Syria, in neighbouring states and in states beyond the region.
This flight from violence has included residents of the Yarmuk refugee camp in south-west Damascus most of whom – until 2012 – were Palestinian refugees whose original dispossession resulted from the Zionist colonization of Palestine culminating in the 1948 Nakba. The number of persons who have fled Yarmuk in the past year is estimated to exceed 500,000 including the camp's long-time Palestinian residents and the Syrians who, since 2011, had sought refuge there following outbreaks of fighting in nearby areas. The 18,000 or so residents who now remain in Yarmuk face circumstances of grave humanitarian need – malnutrition, illness, starvation – as a result of a regime-imposed blockade on the area aimed at punishing opposition forces and their sympathizers in the camp.
The uprooting of millions in the context of the Syrian revolutionary struggle constitutes a graphic and all too vivid instance of the devastation that can result for people from the actions of state and non-state actors in a world of national borders, territorial-state claims, colonial domination and exclusionary national projects. "Uprising and Uprooted" tells some of the story of the refugee crisis that has resulted from the actions of a state bent on silencing its own citizens' calls for liberation from oppressive, authoritarian rule and on quashing popular demands for conditions of justice, respect, equality and dignity.
For more information:
Tel: 514-664-1036
E-mail: info@tadamon.ca
Website: www.tadamon.ca
***
e) FLASHMOB AGAINST BORDERS / FLASHMOB CONTRE LES FRONTIÈRES
THURSDAY, JUNE 5th, 5pm, location to be announced
The Chaotic Insurrection Ensemble will be participating in a flashmob on June 5th to distribute flyers for the "Stop the deportations! Status for all!" march which will be held on June 7th. Sign up at http://chaoticinsurrectionensemble.org/form/flashmob to join us! The flashmob will start around 5:00 PM on June 5th in front of a metro station somewhere … sign up to find out where !
Organizing group: Chaotic Insurrection Ensemble
Contact: http://chaoticinsurrectionensemble.org/contact
***
f) NO ONE IS ILLEGAL RADIO
THURSDAY, JUNE 5, 5pm-6pm
A one-hour show featuring interviews with organizers and front-line activists struggling against deportations. You can listen to the LIVE show (Thursday, June 5) from 5-6pm on CKUT 90.3FM in Montreal or at www.ckut.ca everywhere. This show is part of CKUT's Off The Hour. We're grassroots community radio on the island of Montreal.
No One Is Illegal-Montreal is part of a worldwide movement of resistance, fighting for justice and dignity, and the right to self-determination for migrants, refugees and indigenous people. Our campaign is in public confrontation with the Canadian state, denouncing and taking action to combat racial profiling, police brutality, detentions and deportations, as well as opposing the displacement and genocide of indigenous peoples on Turtle Island.
info: www.nooneisillegal.org
***
g) TRAVAILLEURS ET TRAVAILLEUSES MIGRANTS ET ASSURANCE-CHÔMAGE: ÉGALITÉ DES DROITS ET DISCRIMINATION
JEUDI, 5 JUIN à 19h
6839A, rue Drolet (3e étage) (metro Jean-Talon, à deux pas du marché)
Le Mouvement Action-Chômage de Montréal vous invite à une présentation suivie d'une discussion sur les travailleurs et travailleuses migrants et l'assurance-chômage.
Alors que le gouvernement Harper justifie le saccage de l'assurance-chômage en disant vouloir «s'assurer que les MacDonald's de ce monde n'ont pas à faire venir des travailleurs étrangers temporaires pour faire le travail que des Canadiens sur l'assurance-emploi ont les compétences de faire», certains continuent à faire circuler le mythe que les travailleurs et travailleuses migrantes ont plus de droits à l'assurance-chômage que les autres. La vérité, c'est qu'il existe au contraire toutes sortes d'embûches qui empêchent les travailleurs et travailleuses migrants de toucher des prestations – même s'ils sont forcés de cotiser au régime.
La meilleure façon de s'assurer que les patrons ne puissent pas se servir, ni des travailleurs étrangers temporaires, ni du régime d'assurance-chômage pour faire pression à la baisse sur nos conditions de travail à tous et à toutes, c'est de lutter collectivement pour un régime d'assurance-chômage universel basé sur l'égalité des droits de l'ensemble des travailleurs et travailleuses.
***h) BREAK IT DOWN! TEAR IT UP!
An Anti-Deportation Days Fundraiser
FRIDAY, JUNE 6th
doors at 8pm, bands at 9pm, dance party at 11pm
Il Motore, 179 Jean Talon West$suggested 5-10 pwyc, no one turned away!$with music by …REBEL REBEL REBEL
All-Filipno Funk-Hip Hop-Reggae/Social Justice band from Uptown, Cotes-des-Neiges in Montréal!
https://www.facebook.com/pages/Rebel-Rebel-Rebel/1444094352475601
ATHENA HOLMES
Born into a family of performers who count Jimi Hendrix among their friends, Athena Holmes has always had a passion for performance. She is a self-taught musician who knows her way around the guitar, bass, kit and the recording studio. Her crisp vocals, natural tone and almost perfect pitch, are reminiscent of Corrine Bailey Rae and Skye Edwards. Her music infuses jazz chords and melody over folk rock progressions, and bluesy grooves. Composing with guitar and voice simultaneously, the content of her compositions range from body image to heart ache. The self-described "soulful but not a soul singer", was voted #6 best singer/songwriters in the Montreal Mirror's Best of Montreal 2010. This winter she released her first official music video for the single "Get out cha' own way".
Official video:https://www.youtube.com/watch?v=8959lydyPxg
Bandcamp page:www.athenaholmes.bandcamp.com
Facebook:www.facebook.com/pages/Athena-Holmes/99831827508

Il Motore is located between metros Parc & De Castlenau. The 93 bus runs along Jean Talon. Il Motore is wheelchair accessible. The entrance doors are 31 inches wide. There is a slight incline from the sidewalk, but no step. The bathroom doors are also 31 inches wide, as are the accessible washroom stalls (which have hand railings on the wall). Unfortunately none of the doors are automatic. The bar is on a slightly higher level than the dance floor but there is a ramp with a gentle incline between the two areas of the venue.This event is organized by No One Is Illegal-Montreal.
***
i) STOP DEPORTATIONS! STATUS FOR ALL!
SATURDAY, JUNE 7, 2014
2pm: GATHERING / STARTING POINT: Bethune Square (Guy & DeMaisonneuve West, métro Guy-Concordia)
4pm: CONVERGENCE, DEMONSTRATION AND PICNIC: Philips Square (Union & Ste-Catherine, métro McGill)
A child-friendly march. Bring your kids!
Get in touch about any accessibility needs
We march together to demand an end to deportations and detentions, and we denounce the double punishment of migrants with criminal records. We demand Status for All, and organize for a "Solidarity City" for all residents of Montreal. Read more here: www.solidarityacrossborders.org/en/revendications.
We also support Indigenous struggles and movements for self-determination. Read our Statement of Support for Indigenous Struggles and Sovereignty statement: www.solidarityacrossborders.org/en/statement-of-support-for-indigenous-struggles-and-sovereignty.
Land, freedom, self-determination, Canada is an illegal nation.
We live here! We work here! We're staying here!
—–
-> FOR A SOLIDARITY CITY !: We encourage Montreal-area organizations and groups to discuss and collectively sign this statement: www.solidarityacrossborders.org/en/francais-declaration-pour-une-cite-sans-frontieres.
-> VIDEO: STATUS FOR ALL. View www.youtube.com/watch?v=za8n_BTy2O0.
Organized by:
Mexicans United for Regularization
No One Is Illegal-Montreal
Solidarity Across Borders
with the support of Dignidad Migrante and the Immigrant Workers Center
(Dignidad Migrante, Mexicans United for Regularization & Solidarity Across Borders are working groups of QPIRG Concordia.)
INFO: 438-933-7654 / unstatutpourtoutes@gmail.com
www.StatusForAll.org
***
j) WHAT DOES IT MEAN TO DEMAND A STATUS FOR ALL ON STOLEN INDIGENOUS LAND?:
A Collective Conversation
MONDAY, JUNE 9th, 6:30-8:30
QPIRG Concordia, 1500 de Maisonneuve West, room 204
free food! wheel-chair accessible, free childcare, whisper translation between french, spanish, and english
Decolonize! A temporary committee of Solidarity Across Borders invites you to join us for a collaborative conversation, reflection, and strategizing session about the interconnections of migrant justice and indigenous self-determination. As we come together over the two weeks of Anti-deportation Days to demand a Status For All!, let's also consider such questions as:
– why do we struggle for status?
– what does it mean to be canadian?
– what does it mean to become canadian?
– what are the links between Indian status and migratory status?
– what does it mean to demand a status for all on stolen indigenous land?
"We believe we cannot speak meaningfully about apartheid globally, and unjust migration policies, without first speaking about the realities of apartheid here in Canada.
From its very foundations, Canada has been based on the theft of Indigenous lands, and the genocide and displacement of Indigenous peoples. In crucial ways, the Canadian state's treatment of Indigenous peoples, historically and currently, is an apartheid system – from the imposition of the Indian Act, band councils and reservation system, to stolen children and residential schools; from the continued theft of lands and resources by governments and corporations, to the cultural appropriation of native traditions and culture. …
The colonial Plan Nord in Quebec, which is predicated on the dispossession and destruction of native land, also seeks profit through the exploitation of migrant labour. The same militarized borders that separate migrants from their communities and tear families apart, also cut a swath through the territories of Indigenous nations. The same federal government that imposes its jurisdiction over Indigenous people across Canada also presumes to dictate who is allowed to enter and leave these lands. Many immigrants and refugees are themselves Indigenous, displaced from their lands in other parts of the world by a similar colonial process that is often spearheaded by Canadian interests, especially mining companies. And so the struggles for migrant justice and Indigenous self-determination are inter-connected." – Status for all coalition (view full statement here: /en/statement-of-support-for-indigenous-struggles-and-sovereignty)
***
**POSTPONED TO 19 JUNE**
k) EDUCATION FOR ALL! STREET THEATRE AND DEMONSTRATION
WEDNESDAY, JUNE 11, 12:30pm
5252, de Maisonneuve Ouest (métro Vendôme)
at the constituency office of the new Quebec Minister of Immigration, Diversity and InclusionThe Education For All collective is organizing street theatre and a demonstrationl to re-iterate our urgent demand that all non-status children be allowed access to Quebec's primary and secondary schools for free. In contrast, non-status kids in the United States, France (and also in cities like Toronto) can attend school for free. Quebec is a shameful exception.The new Cabinet ministers for the Ministry of Education (Yves Bolduc from Quebec City) and the newly named Ministry of Immigration, Diversity and Inclusion (Kathleen Weil from Notre-Dame-de-Grace in Montreal) have been appointed, and we demand that they act urgently to ensure that another school year isn't lost to non-status children.The previous government neglected this issue, despite a concerted two-year campaign by the CESF. When the previous Education Minister issued directives to school board in June 2013, she ignored non-status children, who are required to pay upwards of $5000-6000 per year to attend school.The new Minister of Education, with the support of the Minister of Immigration, can issue clear directives to all school boards to allow access to non-status children, and to end the injustice facing Quebec's non-status families. We demand that the new Quebec government act immediately so that the information about access to primary and secondary school for non-status children can be widely shared with parents before the summer break.
The issue is explored in detail in the following document: www.solidarityacrossborders.org/en/chronologie-et-informations
More detailed background information is also available here: www.solidarityacrossborders.org/fr/education-across-borders-collective
All Quebec members of the National Assembly have been contacted about this issue as well; you can read the letter sent to them here: www.solidarityacrossborders.org/fr/lettre-ouverte-aux-nouveaux-deputes
If you can attend this picket, or otherwise support our efforts, please get in touch.
Info:
www.CollectifEducation.org
438-933-7654
solidaritesansfrontieres@gmail.com
***
l) ASSEMBLY & STRATEGIZING SESSION AROUND WOMEN AND TRANS SHELTERS AND RESOURCES FOR SURVIVORS OF VIOLENCE LIVING WITH PRECARIOUS STATUS
WEDNESDAY, JUNE 12th, 1-3:30pm
Maison Parent-Roback, 110 Ste-Thérèse (Old Port, Montréal)
In follow-up to the Solidarity City Conference and to the mobilization around the Justice for Ivonne Hernandez campaign, the Shelters, Not Borders! committee is organizing an assembly. We hope for this event to bring together various organizations who actively work to support women* and trans people with precarious status and who deal with various forms of interpersonal and institutional violence, including from the immigration system. Some goals are to share resources, engage in collective mapping, and to strategize around ways of opening access and eliminating the many barriers that exist for survivors with precarious status.
*when we say women we mean all self-identifying women.
***
m) IMMIGRANT WORKERS' CENTRE ARTISTS' BLOCK PERFORMANCE
FRIDAY, JUNE 13, 6pm
@ the Immigrant Workers' Centre, 4755 Van Horne (metro Plamondon)
The IWC Artists' Block is a project in community activist art, co-created by workers and for workers to share stories of resistance and dignity in struggle.
***
n) DOCUMENTARY FILM LAUNCH
SATURDAY, JUNE 14, 5pm
@ NO BAD SOUND, 3730 de Courtrai
Join us for a family-friendly block party for the launch of a short documentary film on the struggles of migrants and indigenous peoples to create alternative networks of mutual aid in the face of the Canada's exclusionary immigration system. Free food and live music by local artists. Food will begin at 5pm, followed by a film screening, and the night will end with music to groove to.
***
o) PICNIC AGAINST BORDERS AND IN SUPPORT OF THE AWAN FAMILY
SUNDAY, JUNE 15, 2-5pm
Jarry Park (station de Castelneau or Jarry) *exact location within the park to come!
FREE.
Food, speakers, soccer and fun!
Family friendly. Bring your kids!
Join us for a BBQ and picnic to celebrate community resistance and affirm our support for the Awan family.
The month of June marks 10 months that Khurshid Begum Awan took sanctuary in a Montreal church. In August 2013, she made the courageous decision to defy a removal order which would have seen her returned to Pakistan, where she faces targeted violence, lack of access to appropriate medical care, and indefinite separation from her daughter and grandson, who live in Montreal.
Justice for the Awan family! Status for All!
The event is co-organized with the Food for All committee of Solidarity Across Borders and is organized in the context of Anti-Deportation Days (June 2-16)

***


INFO:
web: www.StatusForAll.org
tel: 438-933-7654
e-mail: unstatutpourtoutes@gmail.com