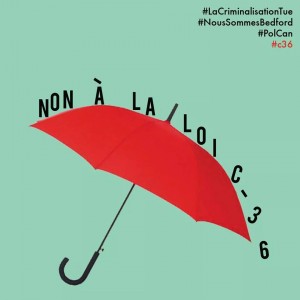 Join Solidarity Across Borders on Saturday in support of this danse-athon against the dangerous recriminalization of sex work.
Across the country, sex worker groups along with organizations and individuals that support human rights, labour rights and women's rights are gathering to denounce the conservative government's proposed bill (C36) to re-criminalize sex work.
The new law criminalizes selling sex in public, purchasing sexual services, advertising sexual services and benefitting from the sale of sexual services. Bill C-36 will not assist individuals in need of support or eliminate harms. Rather, it will force sex workers into dangerous conditions by pushing them into isolated areas, limiting the capacity to take safety precautions such as screening clients, negotiating consent and safer sex practices, and working together in pairs. It will create the most severe dangers and increase incarceration for the most visible and marginalized sex workers: women who work on the street and who are disproportionately Aboriginal, Black, trans*.
Bill C-36 reproduces the harms of the old criminalization regime and violates the spirit and substance of the Supreme Court judgment that struck down the previous laws.
The Montreal Dance-A-Thon will take place on Saturday June 14th at 12pm at Place de la Paix (on Saint-Laurent just north of Réné Lévesque).
Hosted by: Stella, l'amie de Maimie; Alliance Féministe Solidaires pour les travailleuses et travailleurs du sexe (AFS); ASTT(e)Q; Head and Hands/À deux mains; Passages; Pink Bloc; Projet Intervention Prostitution Québec (PIPQuébec); Projet Lune; Rézo; Warning; Solidarity Across Borders.
Other actions are taking place in Halifax, Hamilton, Toronto, Vancouver and Winnipeg:
Montreal: https://www.facebook.com/events/1487550858128568/?notif_t=plan_user_joined
Vancouver: https://www.facebook.com/events/1426059457662632/?ref_newsfeed_story_type=regular
Toronto: https://www.facebook.com/events/689038291133277/?notif_t=plan_user_invited
Winnipeg: www.facebook.com/WinnipegWG
Halifax:
https://www.facebook.com/events/867848246562836/?ref_newsfeed_story_type=regular
Hamilton: https://www.facebook.com/events/605206822911042/?ref_newsfeed_story_type=regular