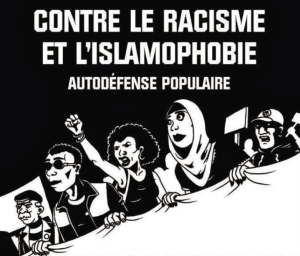 Stop the Racist and Islamophobic Far-Right
Saturday, March 4, 11:30am (sharp!)
Montreal City Hall, 275 Notre-Dame East
A callout by the Anti-Racist/Anti-Fascist Response Committee of Solidarity Across Borders (SAB Antifa). The racist anti-immigrant far-right is actively mobilizing for a public demonstration this Saturday in Montreal (as well as in up to 30 more cities and towns across Canada). We need to reply in large numbers to deny racists and fascists a platform in our city and neighborhoods. Please attend our anti-racist counter-demonstration in large numbers. If you are a member of the Solidarity Across Borders network and can help with tasks related to this mobilization, please get in touch at solidaritesansfrontieres@gmail.com [Original callout below by Antifa Montreal]

ANTI-FASCIST ALERT!

Stop the Racist and Islamophobic Far-Right
Saturday, March 4, 11:30am (sharp!)
Montreal City Hall, 275 Notre-Dame East
The Islamphobic far-right has decided to demonstrate their hatred towards Islam throughout Quebec and Canada just weeks after the deadly attack that targeted Muslim communities in Quebec!
Their demonstration is organized by the "Canadian Coalition of Concerned Citizens", a pan-Canadian anti-Islam nationalist organization that claims to defend Quebecois and Canadian values. This organization shares the Islamophobic propaganda of Never Again Canada, a front-group for various pro-Israel groups including the Jewish Defense League, a neo-Zionist terrorist organization that calls for the genocide of the Palestinian people and the eradication of Islam.
The racist, Islamophobic and more generally anti-immigration group La Meute is in the process of trying to mobilize for this demonstration, choosing as their gathering point 275 rue Notre-Dame East, outside of Montreal City Hall.
Let's reserve for them a little welcoming committee to help them understand there's no place for fascists in our city. At a moment where the extreme right is experiencing growth throughout Western countries, it's time to mobilize to support our Muslim comrades and show our solidarity. We are no longer going to let Islamophobia show itself publicly in our communities.
– Here is the link to the far-right event organized by the Canadian Coalition of Concerned Citizens: www.facebook.com/events/256425841462876
Many anti-fascist and anti-racists groups and individuals will be participating in a counter-demonstration. Let's stop the Islamophobic far-right! Opening anti-immigrant and anti-Islam racists cannot be allowed to take up this space in Montreal, and certainly not in the current context.
¡No pasarán!
[Note, the anti-racist, anti-fascist counter-demonstration will start at 11:30am (sharp) at 275 rue Notre-Dame East, at Montreal's City Hall. Please arrive on time.]