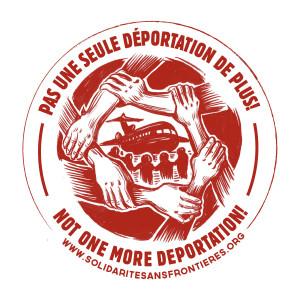 Undocumented Refugee Arrested in Coderre's Sanctuary City Faces Deportation in Five Days
Montreal, 22 Feburary 2017 — "David"* was getting a lift from a friend when the SPVM stopped the car in a random check and ordered everyone to produce their ID. After the police ran his name through their system, David, an undocumented man in his 30s, was arrested on a warrant issued by the Canadian Border Services Agency and handed over to immigration authorities. David is detained at the Laval Immigration Detention Centre and faces deportation on 27 February 2017 to a country where he is at risk because of his sexual orientation.
"The Montreal police acted improperly and the Mayor must intervene with the Minister of Public Safety Ralph Goodale if he is serious about making Montreal a sanctuary city," said Bill Van Driel from Solidarity Across Borders. "Minister Goodale has the legal power to stop the deportation immediately. And if Canada welcomes refugees, as Justin Trudeau tells us, Minister of Immigration Ahmed Hussen must step in to grant David status now before it is too late. Minister Hussen could, for example, issue a temporary residence permit, which is designed precisely for such situations."
Originally coming to Canada to study more than six years ago, David was disowned by his family when rumours of his sexual orientation reached them in his home country. Unable to return to his home, struggling with prejudices against his sexual identity, he lost his status and passed through many agonizing years. Like other undocumented residents of Montreal, he was routinely denied access to vital social services and lived with the constant fear that he could be detained because of his immigration status.
"The Mayor must order his police to stop such practices. We have heard of many similar cases: police stopping cars, often for no apparent reason, and asking everyone in the car – not just the driver – for their IDs. This is how many undocumented people get picked up. It is racial profiling; police are improperly using their power to ask for ID; and it leads to hundreds if not thousands of people being detained and deported every year, which is in violation of sanctuary city," said Mary MacMillan of Solidarity Across Borders.
"It is important to note that David was denied access to the refugee determination process. After his student visa expired and he was out of status, an exclusion order was issued against him before he had sought protection. In such circumstances, Canadian law prevents individuals from making a refugee claim, only allowing them access to a PRRA, which offers very few procedural safeguards," said David's lawyer, Mylène Barrière.
Ms Barrière has filed a Pre-Removal Risk Assessment (PRRA) and an administrative stay application. If the stay application is refused, his last legal recourse within Canada is the Federal Court. In parallel, Ms Barrière has appealed to the United Nations. The Minister of Public Safety and Minister of Immigration can intervene at any time to stop the deportation and grant David temporary or permament status.
-30-
For interviews: 438-933-7654
Source: Solidarity Across Borders, www.solidarityacrossborders.org