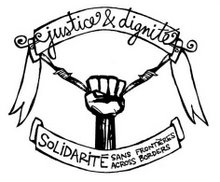 To all members of Solidarity Across Borders:
Solidarity Across Borders BUDGET ASSEMBLY
Tuesday, August 26, 2014, 6:30pm-8pm
1500 de Maisonneuve West, #204
(métro Guy-Concordia)
– wheelchair accessible
– childcare available on request (please contact us in advance by e-mail)
– translation: French-English-Spanish
– please confirm your attendance by e-mail (solidaritesansfrontieres@gmail.com)
As decided at the general assembly this past July 3, Solidarity Across Borders will be holding a special Budget Assembly before the end of August. The assembly will be on Tuesday, August 26, organized by the Finance Committee. All members of Solidarity Across Borders are encouraged to attend this assembly. The agenda of this assembly includes:
1. Report to membership about finances
2. Budget for 2014-2015
3. Creating a fundraising committee
4. Who are finance team members
5. Finance Protocols
The Finance Committee will provide background documentation before the assembly that we encourage all members to read and study, so as to be prepared for the assembly. We encourage SAB committees in particular to be in touch with the Finances Committee in advance to discuss their spending to date, and their proposed budgets for the upcoming budget year. It's important to have members of all SAB committees present for this assembly, so please confirm when you can.
If you have any questions about finances, don't hesitate to write us; tag your e-mail "finances" and e-mail us at solidaritesansfrontieres@gmail.com
See you on August 25!
– The Finance Committee (Emily, Jaggi & Rosalind)
———-
SOLIDARITY ACROSS BORDERS AND OUR ASSEMBLIES
WHY?
Thousands of people are deported from Montreal every year. Many others live in precarity; under temporary workers' programmes, without full status, or without papers. They are vulnerable to super-exploitation in the workplace and to domestic violence, and are denied access to healthcare, education or other social services. Canada's immigration system is part of a system of global apartheid, protecting the privileges of a tiny minority at the expense of the vast majority, who are denied the means to live in dignity. Individually, we have little power to change this situation; only by working together can we begin to challenge it.
WHO IS WELCOME?
Everyone who agrees with our demands is welcome, particularly those facing the impact of the immigration system themselves. While discussion is open to all, only members will participate in decision-making. Members agree with our demands and are either directly affected by the immigration system, involved in one of our committees, or contribute to SAB organizing when and as they can.
OUR DEMANDS
SAB opposes the deportations, detentions and double punishment of migrants. We call for status for all in Canada, now! We work to make Montreal a solidarity city, where everyone can live in full dignity with equal access to healthcare, education, and other public services.
HOW TO GET INVOLVED
Coming to an assembly is a great way to start getting involved in SAB! In addition, SAB has five active committees (Health for All!, Collectif éducation sans frontières, Food for All, Shelters not Borders!, and Support) and two temporary committees (Decolonize and Anti-Oppression). SAB also actively supports and participates in the Status for All coalition with others. Contact us at solidaritesansfrontieres@gmail.com to find out which committees are actively recruiting and how to get involved.