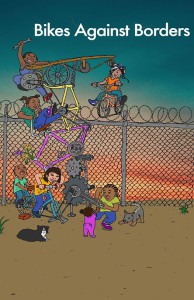 Sunday, May 7th from 10am to 6pm
Right to Move / la Voie Libre, Guy-Concordia metro
Right to Move/Solidarity Across Borders Bike Repair Fundraiser Extravaganza!
Spring is here: the season to take a look at the bikes we put away all those months ago and get them ready for another season of riding through the city dodging cars and skateboarders.
Is your bike looking a little worse for wear? Flat tires? Rusty chain? Making squeaking noises you can't quite identify?
Are you impatient to have it ready to ride, but don't have time to work on it yourself?
Want to have a bike that is spring-ready AND support struggles for migrant justice?

Great news! Right to Move and Solidarity Across Borders are teaming up for a one-day bike-repair-a-thon on May 7, in which Right to Move volunteers and other mechanics can get your bike ready to roll – with all proceeds from the effort going to Solidarity Across Borders, a grassroots migrant justice network.
Solidarity Across Borders organizes around 5 central demands:
Status for All! We demand a full, comprehensive and ongoing regularization program for all people living in Montreal, Quebec and Canada who do not have full status (ie. permanent residence or citizenship).
No Deportations! We stand in solidarity with those who struggle to resist their deportations and forced removals.
No Detention! We demand the immediate release of all detainees in immigration detention facilities, and organize for the closing of all detention centres.
No Double Punishment! We oppose the deportation of migrants with criminal records, which effectively punishes migrants twice; first through the racist criminal (in)justice system, and again with the threat of deporation.
Build a Solidarity City! We can work together to build our networks of support, and create the communities we want to live in today!
The quick details:
When: May 7th, 10am – 6pm
Where: Right to Move community bike shop, behind Concordia's Hall building between Mackay and Bishop streets.
Who: Anyone who has a bike that needs a spring tune-up! See below to reserve a spot.
How: First, please email righttomove@gmail.com to arrange a drop off time. Due to space limitations we cannot store bikes overnight, so you will need to both drop off and pick up your bike the same day. Then, bring it at the arranged time on May 7th! You and an intake volunteer will assess the condition of your bike and discuss any parts that may need to be changed, as well as costs associated with replacing those parts. At the end of the day, come back, be excited and ride away on your freshly tuned up bike!
Cost: Sliding scale pay what you can, suggested range of $30-75.
Don't need a tune-up but still want to support Solidarity Across Borders? Visit our webpage at solidarityacrossborders.org to make an online donation, and to learn about how to become a monthly contributor, or send a message to solidaritesansfrontieres@gmail.com to arrange for a cheque or cash donation.