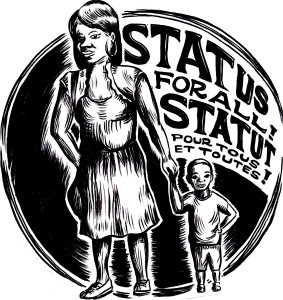 Dear friends and allies,
Members of Solidarity Across Borders are supporting an undocumented woman who has lived, worked and built community in Montreal for more than half her life, for over 30 years. At the end of November 2015, with severe diabetes and no medical insurance, Marcia was forced to undergo an emergency retina surgery. This surgery was unsuccessful, leaving Marcia blind.
After the surgery, Marcia was forced to move because she could no longer afford her apartment and was unable to work, separating her from a neighborhood she made community in for 20 years. She currently has no source of income and is waiting for a response on her humanitarian application. After leaving her home and family in Jamaica and coming here as a young adult, spending 30 years here working as a caregiver, she has been left with nothing.
Since losing her vision, Marcia has made incredible gains in terms of regaining personal autonomy but there is still a long road ahead. This past year she has relied on donations from community members to cover all of her living expenses and health related expenses as she does not have access to health insurance nor welfare.
We are again reaching out to community members to help cover her daily expenses as we wait for a response on her Humanitarian & Compassionate application for permanent residency. Any donation, any amount will help make a difference in Marcia's day-to-day life. We hope to raise enough to cover her living and medical expenses for a year.
We see these kinds of contributions as one part of a larger struggle against the injustices perpetuated by the Canadian immigration
regime, which systematically excludes hundreds of thousands of undocumented people living in Canada from basic autonomy and dignity.
Thank you for considering donating.
Status, justice, and dignity for all!
Listen here to an excerpt from No One Is Illegal radio, where the woman shares her story in an interview: /wp-content/uploads/NOII-interview-Nov.5-2015.mp3
– Friends of Marcia