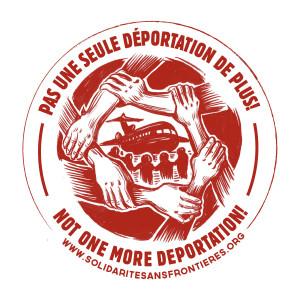 SOLIDARITY ACROSS BORDERS New Members Orientation
Against deportations, detentions and double punishment! 
Organizing for the regularization of all non-status persons! 
Together, let's build a Solidarity City! Join us!
Sunday, November 13, 1pm to 3pm
1500 de Maisonneuve Ouest, Suite 204 (métro Guy-Concordia)
This orientation will provide an overview of Solidarity Across Borders' history, vision and structure; including our demands and internal decision-making processes. While this workshop is structured for new members of SAB, anyone who wants to get involved with SAB is welcome to join.
We mobilize around these main demands: an end to deportations and detentions, abolition of the double punishment of migrants with criminal records, and Status for All! We work towards making Montreal into a "Solidarity City". We engage in popular education, support people in immigration struggles, and organize political actions, including demonstrations, pickets, and direct actions.
Our committees and initiatives include: Health Care For All; the Education Across Borders Collective; the Anti-Racist/Anti-Fascist Response Committee; Support Work;  Shelters, not Borders; Media; Housing for All; Food Committee; Solidarity City committee, and more. We also organize general mobilizations, such as Status For All marches, the Month Against Deportations and Borders, Refugees Welcome/Open the Borders demonstrations, as well as regular popular education efforts.
Everyone who agrees with our demands is welcome to get involved and participate in the orientation! Join us!