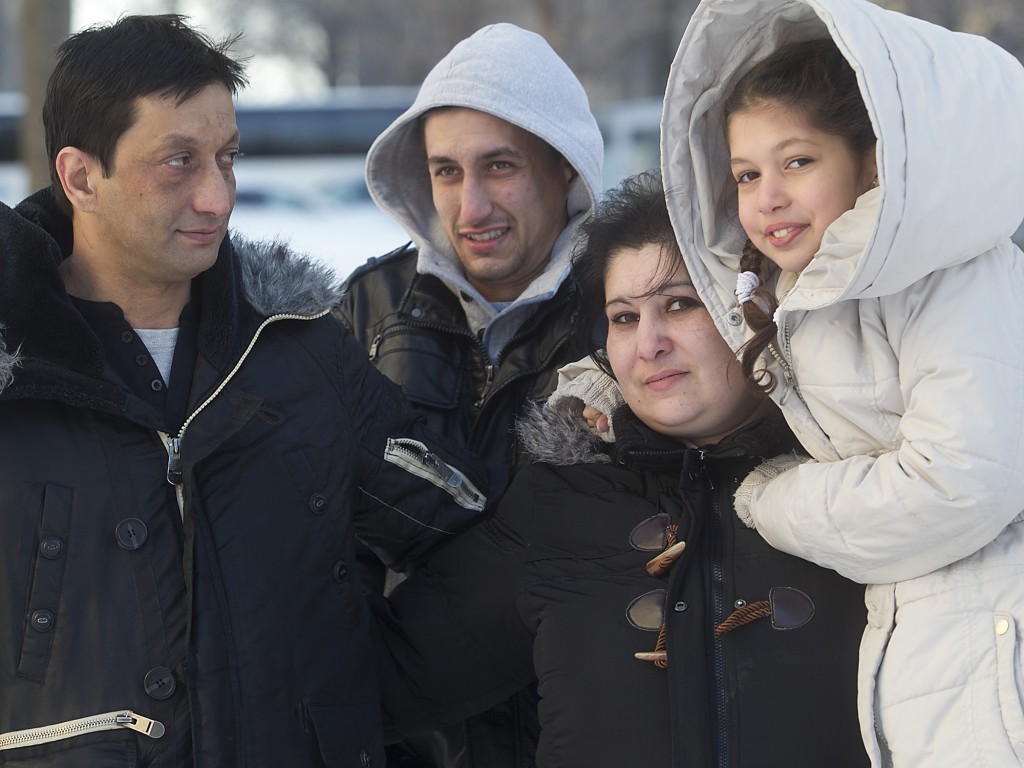 Anasztazia Szilagyi, husband Dezso Nemeth, and their two children Mark (21) and Mercedesz (10) are scheduled to be deported to Hungary on January 28th. They will apply for stay at Federal Court on 27th. Stay tuned for support actions on Monday and Tuesday.

How you can help:
>> Write or call Federal Minister of Immigration Chris Alexander and Federal Minister of Public Safety Steve Blaney and ask them to stop the Nemeth family's deportation and give them status in Canada. Point out that the family have been denied a pre-removal risk assessment, which would asses the violence that this family faces before their January 28th deportation date, and that they have an application for permanent residence on humanitarian and compassionate grounds currently in process.
CONTACT DETAILS:
E-Mail: Minister@cic.gc.ca and Chris.Alexander@parl.gc.ca or Fax: 613-996-1289 or Fax: 905-426-9564
Email: steven.blaney@parl.gc.ca and blanes1b@parl.gc.ca or Fax: 418-830-0504
***
Montreal, 13 January 2015 – A Roma refugee family settled in Montreal for over three years could be deported before the end of January, forcing them to return with their ten year old daughter to a country where they faced racist violence. Deportation will also separate the family from two adult children who were accepted as refugees last year. Immigration officials are refusing to give the family a pre-removal risk assessment because the Conservative government considers Hungary to be a safe country.
"The 'designated country of origins' list, established in December 2012, sets up a two-tier immigration system. If Hungary were not listed, the Nemeth family would have been eligible for a PRRA since May 2014. Because it is listed, they are not eligible until May 2016," said the family's lawyer, Éric Taillefer.
Mr. Taillefer successfully argued a stay application in front of the Federal Court for another Hungarian Roma family in June last year.
The Nemeth family left their hometown of Sarhida in Hungary for Canada in November 2011.
"We didn't want to leave Hungary, but we had to come to Canada," Anastazia said. "We were targeted by the rise of racist violence in Hungary because we are Roma. We became scared for the lives of our children, and for ourselves."
"One day my son came home from school and he was black and blue, full of bruises. After that he refused to go back to school," she said.
Young Mercedesz also experienced bullying at school, by students and teachers alike.
In 2012, a year after the Nemeth family came to Canada, Anasztazia and Dezso's two older children, still in Hungary, had rocks thrown at their home, as anti-Roma slurs and death threats were uttered. Following the incident, they left to join their family in Canada.
While the two older children were eventually accepted as refugees in June 2014, their mother, father and two siblings saw their claim for asylum rejected in May 2013.
"The fact that the two older children were accepted shows that refugee board officials do not agree with the Conservative government that Hungary is safe for Roma," said Leah Freedman, for Solidarity Across Borders.
"Statements by this government assume the Roma are not a persecuted group in Europe, depicting them as 'bogus refugees' and discouraging them from seeking asylum in the country. Yet, with the rise of extreme-right movements in Europe, Roma continue to face widespread persecution, hatred and violence," said Dafina Savic of the Montreal-based Roma advocacy organization, Romanipe. "Up until this day hate speech against Roma is not only ignored but often encouraged."
"Our whole life is in Montreal, with our children and grandchildren," Anasztazia said.
Mercedesz has had the chance to advance in school and feels cared for in her community. She speaks and writes French fluently. She does not read or write in Hungarian.
The family has applied for permanent residence on humanitarian grounds, but fear they will be deported before they get an answer.
To read a statement by Anasztazia, click here.
Background on racism against Rom in Hungary, click here.
No deportations! Status for all!