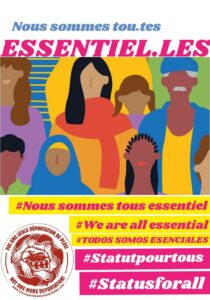 Media yesterday reported that Trudeau is on the point of introducing a regularization programme – but only for refugees who worked in the healthcare sector during the pandemic. Other refugees, undocumented migrants, students, temporary foreign workers, caregivers and others are excluded; as though they are not essential. Please read the reactions of several of our friends and neighbours who were excluded (below).
This policy is not yet law and there is currently an unprecedented opportunity to push hard and demand that the regularisation programme be extended to include everyone, without exception. Status for All! Everyone is essential.
Please join migrants with precarious status in calling/emailing members of Parliament, as well as the Immigration Minister and Prime Minister of Canada, TODAY (Thursday, 11 june) and TOMORROW (Friday, 12 june). (Details below.)
Sign the petition for Status for All: https://docs.google.com/forms/d/1kudWXQhcZyjhISWgkB61mXAx2bjXopCvD_m6ZiuPXi8/
Save the date: March for Status for All! We are ALL essential! on Saturday, 4 July at 11am at Carré Emilie Gamelin (Berri UQAM metro). Details coming soon.
CALLS & EMAILS
1) Justin Trudeau
https://pm.gc.ca/en/connect/contact
justin.trudeau@parl.gc.ca <mailto:justin.trudeau@parl.gc.ca>
Hill Office: 1 613-995-0253
Constituency office: 1 514-277-6020
2) Minister of Immigration, Refugees and Citizenship Marco Mendicino
Marco.Mendicino@parl.gc.ca <mailto:Marco.Mendicino@parl.gc.ca>
Hill Office: 1 613-992-6361
Constituency office: 1 416-781-5583
3) Your federal MP, find their contact here: https://www.ourcommons.ca/Members/en
Example message:
I am calling about the regularisation programme that the government is on the point of introducing. The progamme is arbitrary, incoherent and unjust. It excludes many people. It should be widened to include everyone. Everyone is essential.
Reactions from Solidarity Across Borders members excluded from the regularization programme:
"I work as a security guard in food production. My job is to make sure people respect the government's rules of social distancing, hand-washing, etc. I worked all throughout the crisis, often more than 40 hours per week. I am exposed to many people and put myself at risk. I took public transport to work every day because I had no choice. While citizens and permanent residents were able to stay at home and receive emergency relief, I took risks to help feed everyone safely. Our bosses treat us like heroes, they send us messages of praise and thanks. But the government has excluded us from the regularisation programme." Karim, a refused asylum seeker who wants to be regularized.
"Since I came to Canada, I have always worked in essential services. I have always worked cleaning. Before, during, and after the crisis. So, if I wasn't presently undocumented, I would be included in this law which prioritizes asylum seekers who are doing essential work. I have been here for years. I did not come through Roxham Road. I am not a new asylum seeker. But I think that I also deserve to have permanent residence. My work, my sacrifices, are not recognized because I am undocumented and don't fit these criteria. The people you are thanking do good work. But I was also in their position once, though at the time COVID didn't exist. So, I am asking the government to open the door. Thousands of people are outside the system, but we also lived and worked during this pandemic. We are calling for permanent residence for everyone." Florence, a refused refugee who is now undocumented.
"I have been in Canada eight years with my mother. My mother had a stroke following the pressure that forced us to leave our country. She is paralyzed on the right side. I worked in a care home for the elderly for seven years; I cleaned and cared for the elderly. I contributed to the Canadian economy. I have "Quebec experience." Why are we excluded? Where are Canada's humanitarian values in the decision to only regularize certain people? What will become of my mother and the thousands of others like us? We have the right to live like other people, without fear, without injustice and discrimination. We are all essential." Lili, a refused refugee who is currently undocumented.
"No one chooses to leave their country just for the fun of it, to start all over again from zero, not sure whether they will be accepted or not. No one chooses to lead the stressful life we face daily. We still find the strength to work and help our families, here or in our countries. And we still find the strength to work and help this country's economy. Some of us have the hardest jobs, which are often refused by Canadians. We must accept the challenges, the mistreatment, the injustices because you have not thought about us. You have decided that only some of us deserve residency. But the list of essential workers is much longer. We today are all facing the most difficult and challenging times in our lives. Let us all put hand in hand to face this challenge together." Rachel, a migrant mother with precarious status.
"I also worked as a security guard. I worked in extreme conditions outside, at minus 40, for the entire 8-hour shift. After that, I could no longer feel my toes for six months, despite the protective uniform. But I had no choice. I had to support my children and pay my rent. I have contributed to the economy here. I am very involved and integrated, I have the Quebec experience. I must not be excluded from this programme, because I am essential." Julie, an undocumented mother.