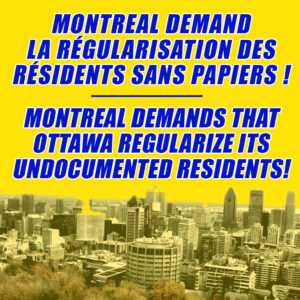 Montreal, 23 February 2021 — The City of Montreal today adopted a motion calling on Ottawa to regularize non-status migrants. The non-partisan motion, introduced on 5 February, passed unanimously. Motion is here.
"For the 1 in 23 people in Canada without permanent status, and especially for the tens of thousands of undocumented migrants, the pandemic has been catastrophic. Today Montreal recognized this reality in its symbolic vote for status for all," said Khaled B,. a member of Solidarity Across Borders.
"For almost a year, deportations have been suspended in Quebec, CBSA confirmed last week that they were still suspended. Canada needs to make that permanent by creating an ongoing, inclusive regularization programme. We hope today's vote will help wake Ottawa and Quebec up to the crisis." said Andrea, another activist with Solidarity Across Borders.
"Although this is a victory, the City of Montreal needs to stop passing the buck to Federal and provincial authorities. Valérie Plante's administration adopted its access without fear policy in June 2019 but nothing has changed for undocumented people in Montreal. Montreal must take immediate steps to protect undocumented community members. These steps should include ending all SPVM collaboration with the CBSA; removing ID requirements from all city services; and taking concrete steps to address all exclusions faced by undocumented community members." said David, involved in Solidarity Across Borders.