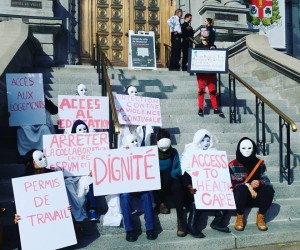 Rally with the Non-Status Women's Collective
https://www.facebook.com/events/1494125997291904
Thursday, 19 October at 11:30am
Montreal City Hall, 275 Notre Dame Est  (métro Champ-de-Mars).
You are invited to participate in an action in front of City Hall to demand a real sanctuary city from Mayor Denis Coderre. In January 2017, he declared that Montreal was a sanctuary city, but it was not true.
Nine months after Coderre's statement, people without status still don't have access to over-the-table work or public services like health services, housing, education, etc.
And non-status people are still being arrested because of their immigration status and turned over to the CBSA by the SPVM (which reports directly to Coderre!), imprisonned and deported.
Join us in the struggle for a life of dignity.
We are counting on you to be there.
—–
Non Status Women's Collective of Montreal
email femmes.sans.statuts@gmail.com
fb Collectif des femmes sans statuts / Non-Status Women's Collective
www.solidarityacrossborders.org/es/non-status-women